Next Page

Go Direct to Sigonella Scrapbook Page Two (2), (3), (4) (5) (6) (7) (8) (9) (10) (11) (12) (13) (14) (15)

Return to Scrapbook Page One

Return to Home Page
VR-24 made its final move from NAF Capodichinno, at Naples, to NAF Sigonella in 1976. Situated roughly ten miles west of Catania,the largest city on the east coast of Sicily, Sigonella was deemed to be the ideal location from which to provide COD support to units of the U.S. Sixth Fleet. From Sigonella, the squadron's fixed-wing C-1A Traders and C2A Greyhounds could reach any point in the Mediterranean. With the addition of RH-53D Seahorses to the squadron's stable of aircraft in 1977, VR-24 could also provide VOD (Vertical On Deck) delivery to any ship with a helo deck. The tempo of VR-24 airlift and COD/VOD operations continued unabated from Sigonella throughout the 1980's with the squadron providing support to U.S. Navy Fleet movements from northern Norway to the Persian Gulf. In 1992, high-level decisions on the employment of resources resulted in the last of VR-24's mission responsibilities being assigned to other units. The squadron flew its final missions in January 1993, bringing to close a relationship with Sigonella and the surrounding Sicilian community that had begun shortly after the field opened in 1958.
Anyone who has additional photos and material relating to VR-24 operations at Sigonella which he or she wishes to share is encouraged to send them to Dick Prather, Webmaster/Editor of the VR-24 website.
| | |
| --- | --- |
| Sigonella was also an ideal location from which to enjoy superb views of Mount Etna. At nearly 11,000 feet, Etna is Europe's largest active volcano. Although about twenty miles north of Sigonella, the impressive peak dominates the landscape. | |
| | NAF Sigonella. Before becoming VR-24's home base, this hangar was home away from home for many deployed U.S. Navy patrol squadrons. For years this was the only hangar available for performing maintenance on transient VR-24 aircraft. |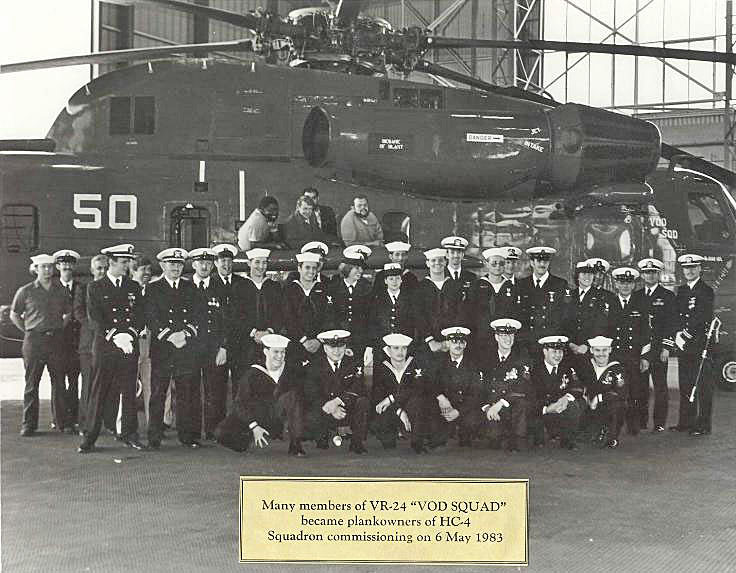 (mulligan)

Most of the members of VR-24's VOD Squad shown here became original plank owners of HC-4. According to Mike Mulligan, this photo was taken in May 1983, a few months before the transistion began. Other members of the VR-24 VOD Squad were still in Beirut and Cyprus. The first RH-53 crew (of which Mike was a member) went to Cyprus in August 1982 to support the USS Independence and Nassau battle groups off of "Bagle Station". Pictured is buno 158690, better known as "50 bird". VR-24 operated RH-53D bunos 158690, 158691, 158692, 158693. The squadron also supported other RH-53s from HM-12 and HM-14.The one member identified in this photo so far is Donald McCaulley (2nd row, 7th from left). Assistance in identifying others would be appreciated.
Top of Page

Next Page

Go Direct to Sigonella Scrapbook Page Two (2), (3), (4) (5) (6) (7) (8) (9) (10) (11) (12) (13) (14) (15)

Return to Scrapbook Page One

Return to Home Page
Copyright © 2002 VR-24 Association