Next Page

Go direct to Hendon Page (1), (2), (3) (4) (5) (6) (7) (8) (10) (11)

Return to Scrapbook Page One

Return to Home Page
More photos from the collections of Lee Auger and Joe Babis.
Anyone who has additional photos and material relating to VR-24 operations at Hendon which they wish to share is encouraged to send them to Dick Prather, Webmaster/Editor of the VR-24 website.
Not all maintenance was performed on aircraft. A member of VR-24 works on his Studebaker outside one of the squadron's Quonset hut shops at RAF Hendon. Note the car's reaward-opening "suicide" door.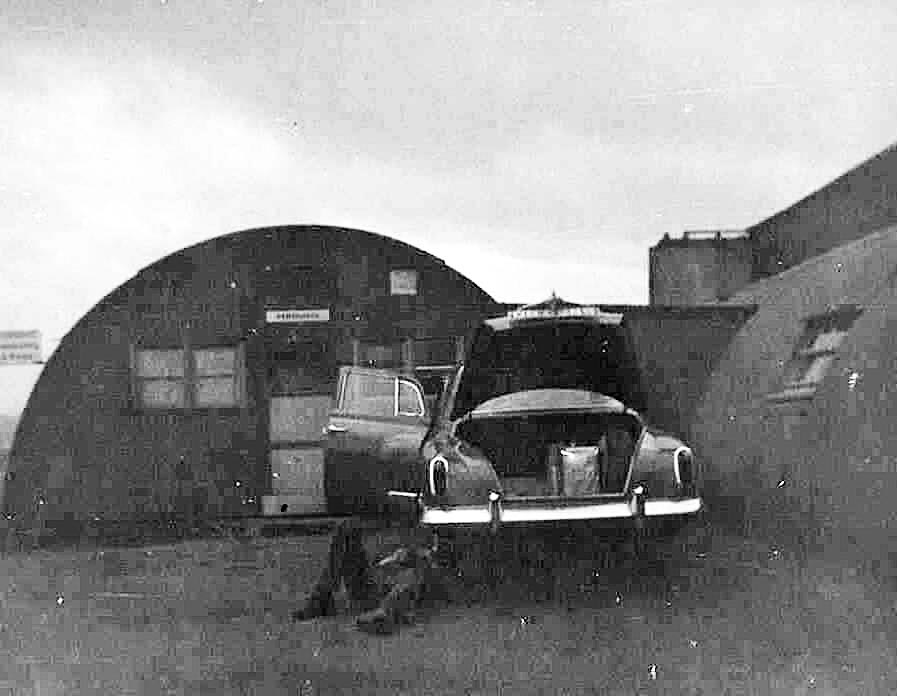 | | |
| --- | --- |
| | There were no on-base quarters for VR-24 personnel assigned to RAF Hendon. Officers and enlisted were given a daily allowance of $4.70, a sum quite adequate with which to find suitable quarters in nearby London neighborhoods. This photo shows the house that Lee Auger shared with T.E. Riteman and Homer Hamilton.(1950) |
The field and facilities at RAF Hendon were not adequate to support aircraft larger than the Douglas R4D. As a result, VR-24 flights opeating R5D aircraft used RAF Bovington. Available information indicates that VR-24 aircraft also used London's civil international airport at Heathrow. These two photos show VR-24 personnel at Bovington entertaining themselves while awaiting the arrival of one of the squadron's aircraft.
Top of Page

Next Page

Go direct to Hendon Page (1), (2), (3) (4) (5) (6) (7) (8) (10) (11)

Return to Scrapbook Page One

Return to Home Page
Copyright © 2002 VR-24 Association