Go direct to Hendon Page (1), (2), (3) (4) (5) (6) (7) (8) (9) (10)

Return to Scrapbook Page One

Return to Home Page
After closure of RAF Hendon, VR-24, supported by FASRON 200, began operations into Blackbush, about forty miles west of London. To meet CINCNELM "rapid response" mission to provide the Admiral transportation, VR-24 had to maintain a flight crew in "readiness" locally. Flight crews were allowed to rent flats in London. This arrangement continued through the Fall of 1960 when all flight crews were withdrawn, much to the regret of those who had flown the twce-week "London Runs". The photos on this page were contributed by Bill MIller who served in Port Lyautey from 1958-1961.
Anyone who has additional photos and material relating to VR-24 operations at Hendon which they wish to share is encouraged to send them to Dick Prather, Webmaster/Editor of the VR-24 website.
(miller)

The last (of several) VR-24 enlisted flat in London was located at the end of this street at 77 Palace Court.

(miller)

View from the fourth floor Palace Court flat.

(miller)

Bill Miller harasses Dick Prather in the Palace Court flat.

(miller)

Bill Miller (c) razzes another member of the gang in the Palace Court flat. Assistance in identifying the other two individuals in this photo would be appreciated.

(miller)

Picadilly, one of the major attractions in London. It has changed somewhat since this photo was taken by Bill Miller in 1959 or 1960.

(paxton)

Another "old time" shot of Picadilly.

(miller)

Buckingham Palace, another popular attraction in London. It has been cleaned of its soot and grime since this photo was taken in 1959-60.

(wait)

The daily trooping of the Guard was well worth the wait.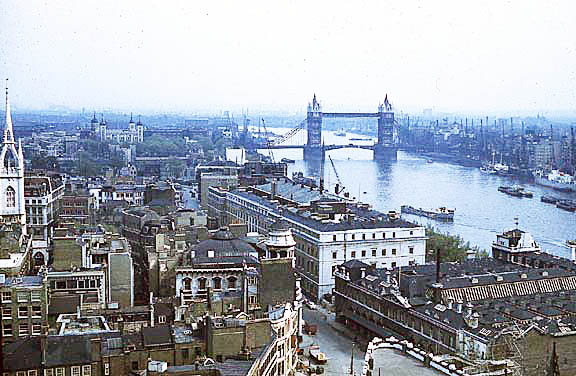 (miller)

A view of Tower Bridge and the Thames. The four turrets of the Tower of London are just visible to the left of Tower Bridge in this photo by Bill Miller.
Top of Page



Go direct to Hendon Page (1), (2), (3) (4) (5) (6) (7) (8) (9) (10)

Return to Scrapbook Page One

Return to Home Page
Copyright © 2002 VR-24 Association