Squadron Scrapbook Naples

Page Three
Top of Page



Go Direct to Capodichinno Scrapbook Page (1), (2), (4), (5), (6) (7) (8), (9) (10) (11) (12) (13) (14) (15) (16) (17) (18) (19) (20) (21) (22) (23) (24) (25) (26) (27) (28) (29) (30) (31) (32) (33) (35)

Return to Scrapbook Page One

Return to Home Page
Anyone who has additional photos and material relating to VR-24 operations at Naples (NAF Capodichinno) which he or she wishes to share is encouraged to send them to Dick Prather, Webmaster/Editor of the VR-24 website.
The flight gear worn by VR-24 flight crews varied widely in the early years of the squadron's operation. Crews of aircraft originally designed for civilian use or as airliners, JRBs, R4Ds, R5Ds, and R6Ds, usually wore their "working uniforms". This included Khakais or Aviation Greens for officers and CPOs, and dungarees for other enlisted. Crews of aircraft originally designed for military purposes, especially those intended for shipboard operations, e.g., TBMs, TFs/C1As C2s, and RH-53s, flew in flight suits and survival gear. With the advent of newer/later aircraft came standardization. Most, if not all, VR-24 flight crews were flying in flight suits by the time the squadron began operating R4Qs and C-130s.

The photos below depict flightcrew personnel assigned to VR-24 Det Naples undergoing "refresher" training on the survival gear carried on the Det's TBM aircraft. Poopie suits of the type shown in this photo were rarely, if ever, worn on operational missions. They were very uncomfortable when worn for prolonged periods, and the Mediterranean water temperatures, even in mid-winter, were seldom cold enough to require them.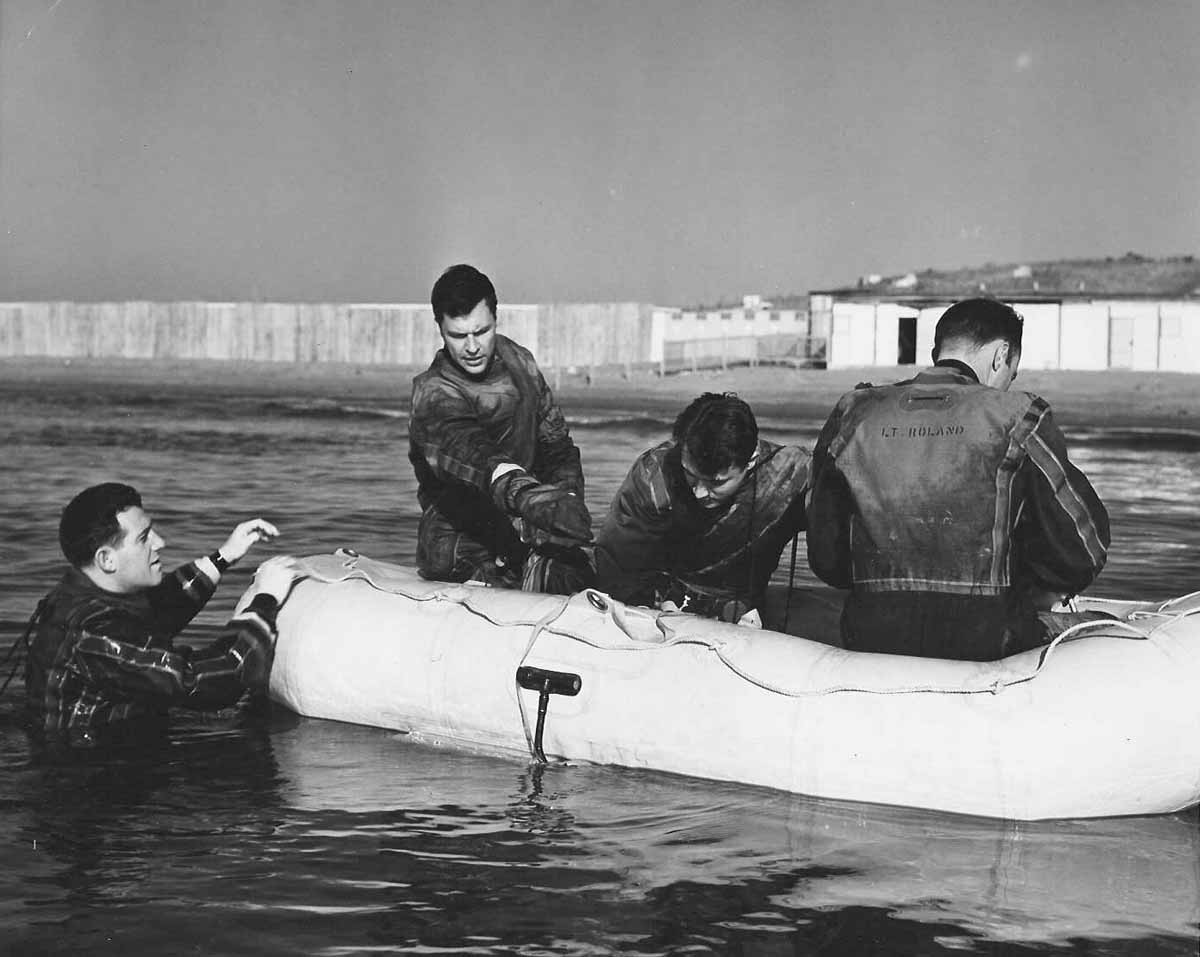 (guidotte collection)

Make Room!

It appears that the boat left before everyone was aboard. In truth, this photo shows LT P. Oddo, LT David Ailes, AD2 Gene Guidotte, and LCDR R. Roland testing their survival gear. They are all dressed in "dry-type" cold-water survival suits, not-so-affectionately known as "poopie suits". Judging from the absence of bathers on the beach or in the water, it is likely that the water was chilly. In that case, the poopie suits would be much more comfortable than they were in the aircraft.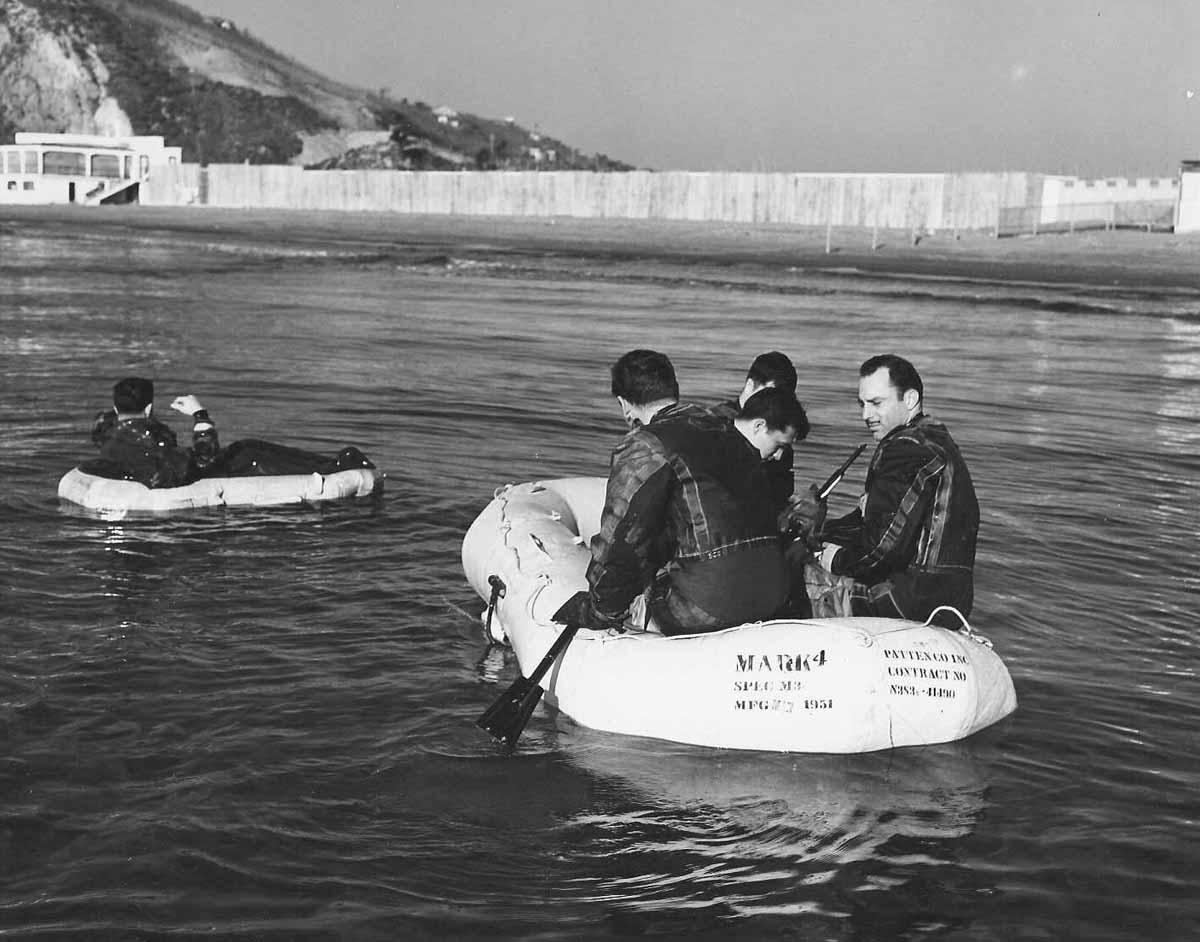 (guidotte collection)

Survival Training at "Navy Beach", Naples Italy

LT Oddo does a "fam" on a one-man raft of the type packed in the TBM pilots' seat-pans. AD3 Howard Hurt, Gene Guidotte, LT Ailes, and LCDR Roland check out a four-man raft (MK-4) of the type provided for passengers in the rear compartments of VR-24's TBMs.
Top of Page

Next Page

Go Direct to Capodichinno Scrapbook Page (1), (2), (4), (5), (6) (7) (8), (9) (10) (11) (12) (13) (14) (15) (16) (17) (18) (19) (20) (21) (22) (23) (24) (25) (26) (27) (28) (29) (30) (31) (32) (33) (35)

Return to Scrapbook Page One

Return to Home Page
Copyright © 2002 VR-24 Association