Next Page

Go Direct to Ops Summaries and Prop Wash Page (1), (2), (3), (4), (5), (6), (7), (8) (9) (11), (12), (13), (14), (15), (16), (17), (18), (19), (20), (21), (22), (23), (24), (25), (26), (27), (28), (29), (30), (31), (32), (33), (34), (35), (36), (37), (38),

Return to Scrapbook Page One

Return to Home Page

Anyone who has photos, stories, and material they wish to share is encouraged to send them to Dick Prather, Webmaster/Editor of the VR-24 website.
This page contains a loose collection of photos for which only limited information about the circumstances of their taking is available. The photos reflect the day-to-day existence of the squadron's flight crews as they perform or wait to perform their airborne duties. The photos of the aircraft interiors give some indication of the differences in the "equipment" flown at various times by VR-24.
This photo of AL2 Bill Witzke is thought to have been taken at Karachi, Pakistan in 1958. Bill was sent to Karachi as part of a flight crew to ferry one of the squadron's R5Ds back to Port Lyautey after repairs to fix damage caused by a ground accident. Note missing port wing flap.

In this photo dated Dec '65, AM3 Louie Armstrong pulls maintenance on C-130 at an enroute field. Background and fuel trucks suggest southern France. Note the non-standard work-stand.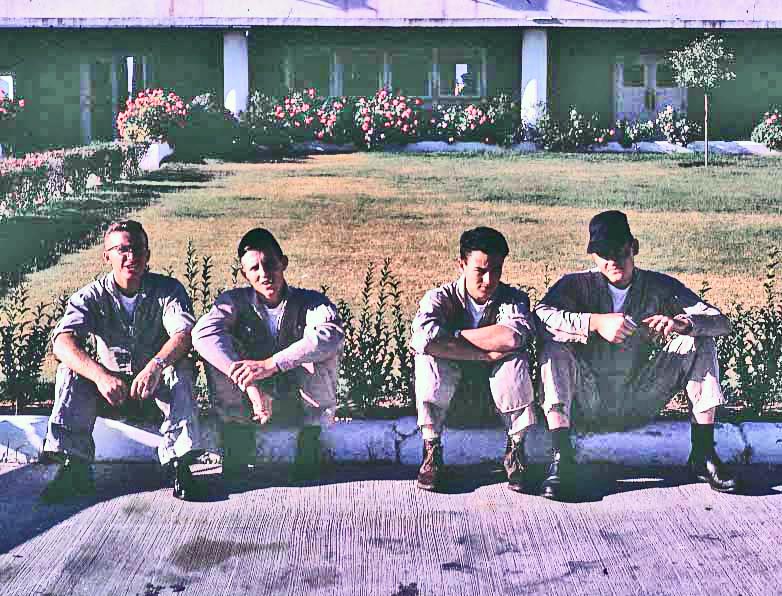 (ballock)

Flight crew assumes "stand-by" position for an early morning flight from Rota. Photo dated Sep. 1963. L-R: AT3 Roman Ballock, ADJ1 Jack Driver, ADJ3 Tom Meyhew, and Charlie____
(prather)

AT3 Frenzel and AMH3 Mardarosian grab a smoke while awaiting departure from enroute stop at Barcelona, 1959.

(prather)

Flight Orderly AMHAN Hankinson "sits the circuit" at radio postion in VR-24 R5D on a flight in 1959.

(prather)

R5D cabin looking aft from crew compartment.

(ballock)

C-130 cargo bay, looking aft.

"Naval Air Tourist Class". This photo, dating from 1954-1956, shows the sparce accommodations available on some VR-24 flights. Although a maximum of 44 "airliner" seats could be rigged in the cabins of VR-24 R5Ds, fewer of those seats were put on board when higher priority cargo required the space. Except for a few lucky ones, as shown in this photo, passengers then had to make do with aluminum-frame canvas bench-type "troop seats" rigged along each side of the cabin.
Top of Page

Next Page

Go Direct to Ops Summaries and Prop Wash Page (1), (2), (3), (4), (5), (6), (7), (8) (9) (11), (12), (13), (14), (15), (16), (17), (18), (19), (20), (21), (22), (23), (24), (25), (26), (27), (28), (29), (30), (31), (32), (33), (34), (35), (36), (37), (38),

Return to Scrapbook Page One

Return to Home Page
Copyright © 2002 VR-24 Association