Next Page

Go Direct to Ops Summaries and Prop Wash Page (1), (2), (3), (4), (5), (6), (7), (8) (9) (10), (11), (12), (13), (14), (15), (16), (17), (18), (19), (20), (21), (22), (23), (24), (25), (26), (27), (29), (30), (31), (32), (33), (34), (35), (36), (37), (38),

Return to Scrapbook Page One

Return to Home Page

The AIRPOWER magazine article and photos below and on the next several pages were contributed by Bruce and Gabrielle Thompson. Bruce did two tours in VR-24; the first from 1980-1981 as a 'Groundpounder' working in the Airframes Shop on the C-1A, C-2A (SLEP), and CT-39G aircraft. His second tour was from 1985-1988 when he was 'Aircrew' on the C-2A (SLEP) and the C-2A (Reproduced) as an In-Flight Plane Captain (IFPC) and Loadmaster (LM). During his 1985 – 1988 tour he worked in the Airframes Shop (on his non-flying days) for about 6 months, and then moved into the Quality Assurance Shop as the primary Airframes QAR. He met Gabrielle Steinau in Sigonella in 1986, she worked in the VR-24 Admin Office from 1986-1988. Gabrielle got out of the Navy in 1991 as an YN2. She and Bruce have been married almost 22 years. Bruce retired in 1997.
Anyone who has photos, stories, and material they wish to share is encouraged to send them to Dick Prather, Webmaster/Editor of the VR-24 website.
MILITARY AIRPOWER Magazine COD Mission
The Military Airpower Magazine article on the Navy's COD mission clearly illustrates VR-24's day to day operation. The article also contains photos of members of the squadron going about their duties as aircrew in carrying out the squadron's mission.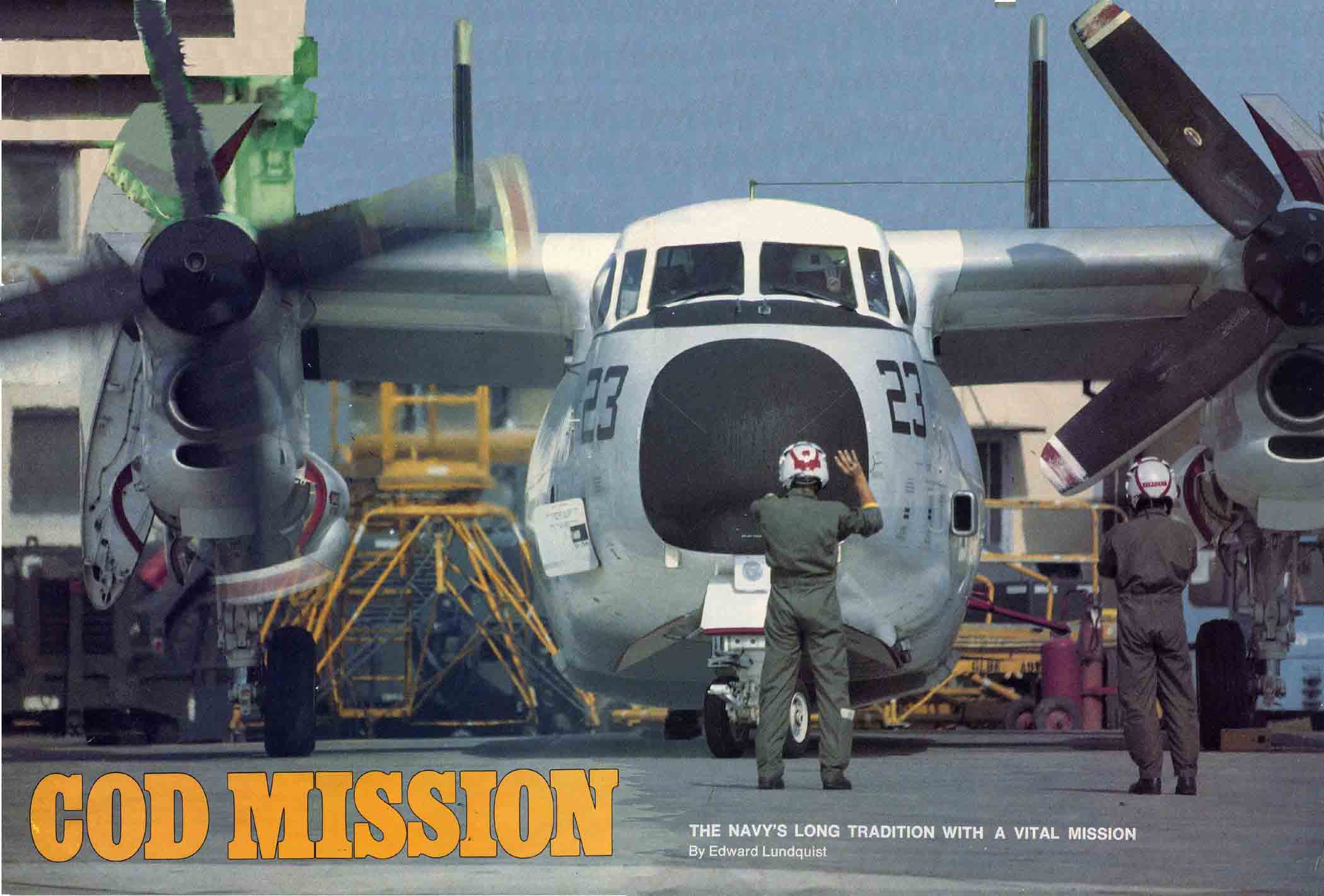 (MAP thompson collection)

The above cover photo from MILITARY AIRPOWER depicts VR-24 crewmen signaling to start number two engine of one of the squadron's "rebuilt C2A aircraft. Shown backs to camera are (l-r) AEC Dave Harris and AMS3Jerry Piercy. It should be noted that the above image has been extensively edited to repair damages, some of which are still obvious. The image should not be viewed as original.
Top of Page

Next Page

Go Direct to Ops Summaries and Prop Wash Page (1), (2), (3), (4), (5), (6), (7), (8) (9) (10), (11), (12), (13), (14), (15), (16), (17), (18), (19), (20), (21), (22), (23), (24), (25), (26), (27), (29), (30), (31), (32), (33), (34), (35), (36), (37), (38),

Return to Scrapbook Page One

Return to Home Page
Copyright © 2002 VR-24 Association