Next Page

Go Direct to Ops Summaries and Prop Wash Page (1), (2), (3), (4), (5), (6), (7), (8) (9) (10) (11) (13) (14), (15), (16), (17), (18), (19), (20), (21), (22), (23), (24), (25), (26), (27), (28), (29), (30), (31), (32), (33), (34), (35), (36), (37), (38),

Return to Scrapbook Page One

Return to Home Page
The holiday season brings joy and happiness to most of us. For some, especially those members of military units deployed around the world, it is a time when service to the nation and community requires sacrifice of time with family and loved ones. For those lucky enough to have served in VR-24, Christmas is also a time for reflection. The photos and messages posted on these two "Holiday Edition" pages, recall a less perilous time. When the missions depicted were flown, in 1962 and 1963, there was time and opportunity to add "Holiday Spirit" to what could otherwise be hum-drum missions. The photos below and the naval messages on the next page reflect that spirit.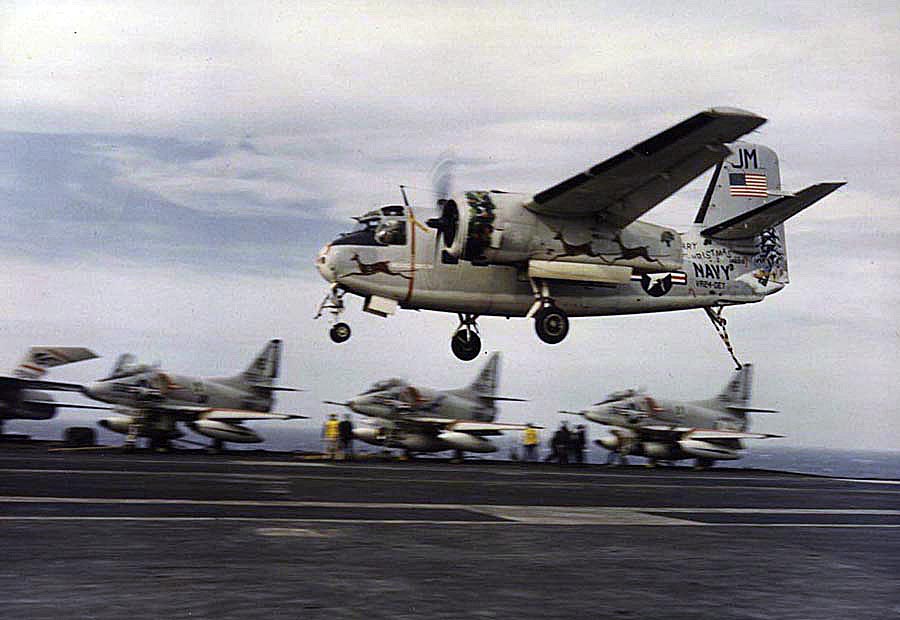 (balderston)

The old VR-24 Christmas Cod was always a welcome sight for the shipboard sailors and a joy for those of us who flew it. We would fill it to the brim with mail and packages and have to board through the overhead hatches. Crews would often wear Santa Suits with beard and all. One time, just before touchdown, the beard blew up and obscured the view of the pilot. No more beards- but some crewmembers continued to wear the suit. We would occasionally deliver toys to orphans in the operating area with the Christmas Cod. I remember the heater went out returning from one of those missions. I cannot remember ever being colder. Those wonderful days are now just good memories that make Christmas more meaningful.
Ken Balderston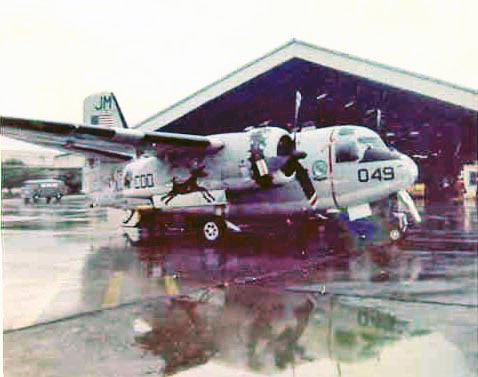 (capel)

Christmas COD at Capo. Photo taken by Al Capel on 19 December 1963 just before departure for delivery of load of mail and goodies to carriers in the Med. Al's comments. I was lucky enough (or round enough) to be the aircrewman on several of these Christmas flights. The plane commander was LCdr. 'Pappy' Sweet, another chubby soul, and the co-pilot was a Lt. (or maybe LTjg Frye) chosen because of his 'elfish' size. We crammed so much mail into that plane that the pilots had get in their seats before loading and I had to enter through the crew escape hatch. To get the plane filled to absolute max, the final mail bags were loaded through the top aft escape hatch. When the main door was opened on the ship, mail bags just poured out!
(attard)

The Christmas COD on a mission to Malta. Maltese national, Carmel J. Attard, snapped this photo at Luqa in 1962 or 1963.

(attard)

A close up of the Christmas COD at Luqa, also by Mr. Attard
| | |
| --- | --- |
| | This photo shows some of the people involved in the 1963 Christmas COD flight. Left to right are: The young man who did the plane's art work (his name is unavailable), LCDR 'Pappy' Sweet (Plane Commander), Allen Capel (aircrew) in the background, Ltjg. Frye (co-pilot), and two guys from the Naples Air Cargo crew. |
Top of Page

Next Page

Go Direct to Ops Summaries and Prop Wash Page (1), (2), (3), (4), (5), (6), (7), (8) (9) (10) (11) (13) (14), (15), (16), (17), (18), (19), (20), (21), (22), (23), (24), (25), (26), (27), (28), (29), (30), (31), (32), (33), (34), (35), (36), (37), (38),

Return to Scrapbook Page One

Return to Home Page
Copyright © 2002 VR-24 Association