Next Page

Go Direct to Rota Scrapbook Page (1), (2), (3), (4), (6) (7) (8) (9) (10) (11) (12) (13) (14) (15) (16) (17) (18) (19) (20) (21) (22) (23) (24)(25)

(26)(27) (28)(29) (30)

Return to Scrapbook Page One

Return to Home Page
The photo on this page shows the VR Football team. The photo was held awaiting additional photo with which to produce Rota pages. The editor regrets that the identify of the photo's contributor has since been lost. The photo appears to be a USN photo, but it is not known at this time from whose collection it came.

Anyone who has photos, stories, and material they wish to share is encouraged to send them to Dick Prather, Webmaster/Editor of the VR-24 website.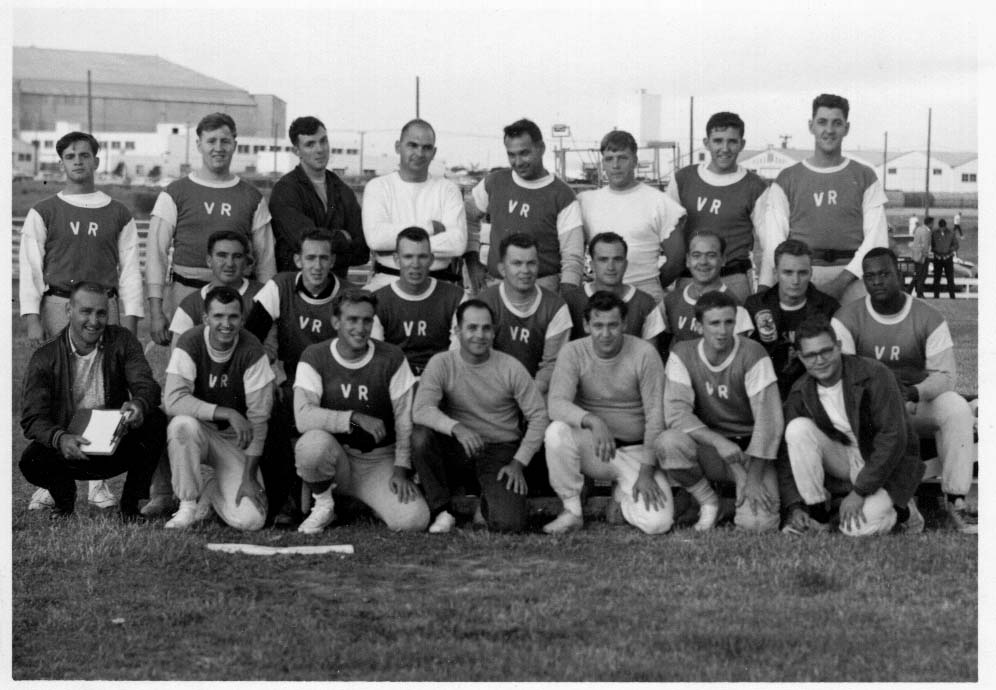 (USN photo)

The VR Rota football team. Photo dates from 1966. Identified members include: First Row: AK3 Barry Epting (2nd from left), AE2 Mike Long (2nd from right). Second Row; 'Bo' Searson (1st left), AE2 Charlie Brown (2nd left), SN 'Chris' Christian (far right). Third Row; (l-r) AN Bill Herren, AN Edward 'Gus" Murray, ATN3 John Tomas, ADR2 Fairbanks (white jersey), ADR1 Ray Fisher, Charles Fagan (2nd from right), AT1 Bob Simister (far right). Fairbanks and Fisher were C-118 Flight Engineers. Assistance in identifying other individuals shown and the occasion for the photo would be appreciated.
Top of Page

Next Page

Go Direct to Rota Scrapbook Page (1), (2), (3), (4), (6) (7) (8) (9) (10) (11) (12) (13) (14) (15) (16) (17) (18) (19) (20) (21) (22) (23) (24)(25)(26)(27) (28)(29) (30)

Return to Scrapbook Page One

Return to Home Page
Copyright © 2002 VR-24 Association