Next Page

Go Direct to Rota Scrapbook Page (1), (2), (3) (4) (5) (6) (7) (8) (9) (11) (12) (13) (14) (15) (16) (17) (18) (19) (20) (21) (22) (23) (24)(25)

(26)(27) (28)(29) (30)

Return to Scrapbook Page One

Return to Home Page
The photos on this and the next several pages are from the collection of Ernie Gasaway who served with VR-24 as an Aviation Machinist Mate (AD) in Rota from December 1963 to August 1965. His photos depict the activities he availed himself of on the base at Rota and nearby towns, and some farther away, such as Seville and Gibraltar.

Anyone who has photos, stories, and material they wish to share is encouraged to send them to Dick Prather, Webmaster/Editor of the VR-24 website.
(gasaway)

Arvil Dale Hartley sits for a photo on what appears to be a Vespa.

(gasaway)

Matich out for a ride on his horse, Garby, which Matich kept at the Rota stables.
(gasaway)

_____, Arvil Dale Hartley, and Tom Mix enjoy a day at the beach.

(gasaway)

An unidentified shipmate appears to be about to receive an unexpected windfall, judging from the hand holding bills in the far right of the photo.
(gasaway)

McPherson, Gasaway, and Issacs in a comprimising pose with liquor in the barracks.

(gasaway)

Ernie Gasaway, Searson, and Hartley appear to be ready to get down to some serious beer.

(gasaway)

Ohmes appears to be having a toddy.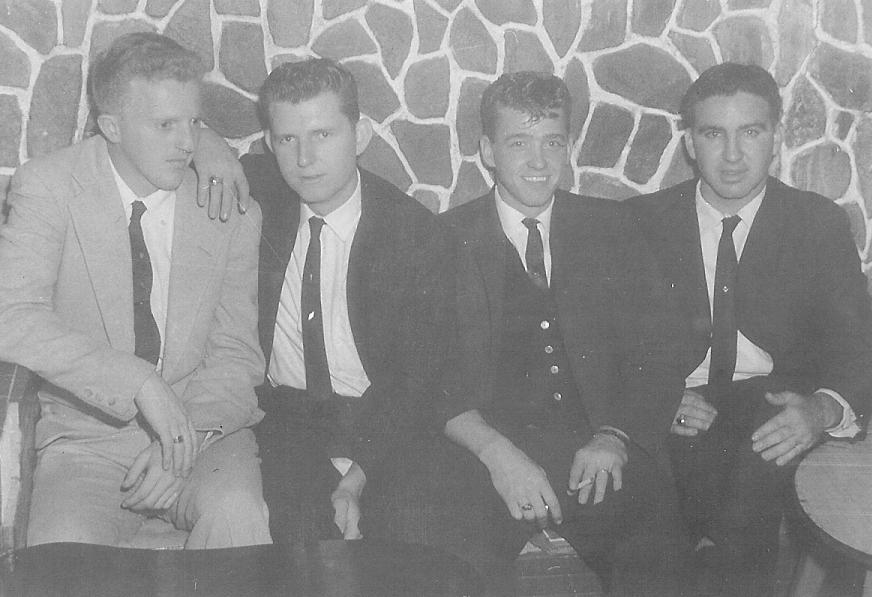 (gasaway)

A group photo of Ernie Gasaway's friends (l-r) Donald "Whitey" Anason, Unidentified, Ernie "Motormouth" Gasaway, Allen "Bo" Searson.
Top of Page

Next Page

Go Direct to Rota Scrapbook Page (1), (2), (3) (4) (5) (6) (7) (8) (9) (11) (12) (13) (14) (15) (16) (17) (18) (19) (20) (21) (22) (23) (24)(25)(26)(27) (28)(29) (30)

Return to Scrapbook Page One

Return to Home Page
Copyright © 2002 VR-24 Association