Next Page

Go Direct to Rota Scrapbook Page (1), (2), (3) (4) (5) (6) (7) (8) (9) (10) (11) (12) (13)\ (14) (15) (16) (17) (18) (19) (20) (21) (22) (23) (24) (26)(27)

(28)(29) (30)

Return to Scrapbook Page One

Return to Home Page
The photos on this page are also from the collection of Ronald Salamanca. These photos show the variety of opportunities for travel and recreation available to members of VR-24 and their families.

Anyone who has photos, stories, and material they wish to share is encouraged to send them to Dick Prather, Webmaster/Editor of the VR-24 website.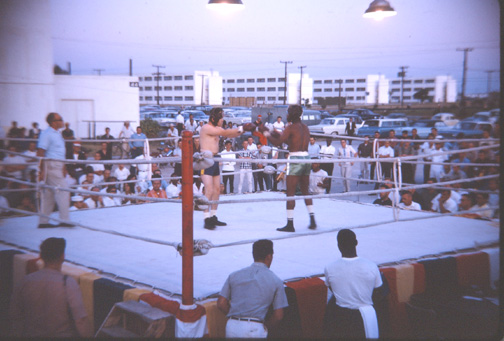 (salamanca collection)

"Smokers", a Navy tradition, provide entertainment and the chance for sailors to show their skills at boxing. In the past, it was also a way for sailors to take on one another in the ring, with attendant referees, to settle differences of opinion.
(salamanca collection)

Another long Navy tradition is maintaining skills with firearms. This photo and the next show members of the Navy pistol club at Rota. Assistance in identifying individuals in this phote would be appreciated.

(salamanca collection)

A retake of the Rota Pistol Club photo was done to allow the cameramen to be included. Raymond Salamanca, who took the first picture, is shown kneeling at the far left. The camerman for this photo is standing second from the left in the first photo.
(salamanca)

Then there were parties. This one was held in February 1965. Only one participant in this photo, Art Patch, on the left, has been identified.

(salamanca)

Another photo, apparently from the same party shows how popular costume parties were. The ladies here appear to like the 'roaring twenties' theme. Assistance in identifying individuals in these photos would be welcome.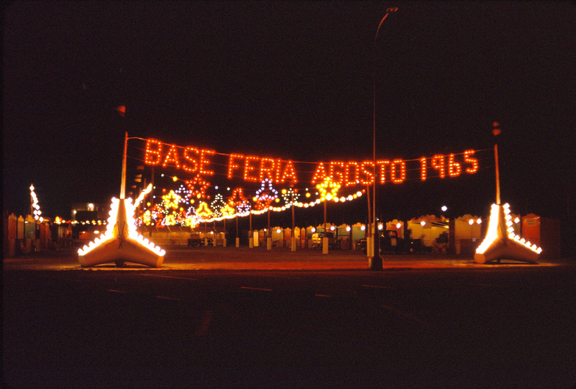 (salamanca)

Fairs are popular with the Spanish people. Annual base fairs provided opportunities for the Spanish people to learn more about their American guests, and U.S. Navy personnel and their families the same chance to meet some of their hosts.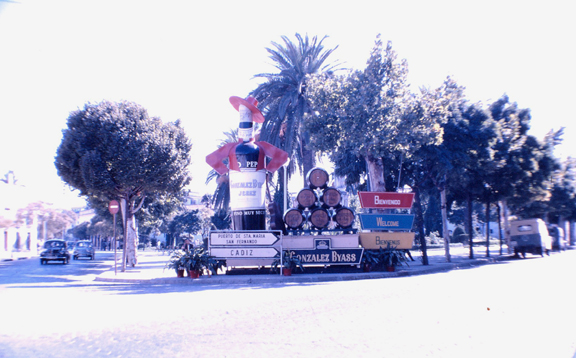 (salamanca collection)

The road signs showing directions to Cadiza and Puerta de Santa Maria are barely noticeable the background of signs advertising Sherry, English for Jerez, a noted wine from southern Spain. Although roadsigns were posted, a keen eye and good sense of direction often paid off in finding one's way around the Spanish contryside.
Top of Page

Next Page

Go Direct to Rota Scrapbook Page (1), (2), (3) (4) (5) (6) (7) (8) (9) (10) (11) (12) (13)\ (14) (15) (16) (17) (18) (19) (20) (21) (22) (23) (24) (26)(27) (28)(29) (30)

Return to Scrapbook Page One

Return to Home Page
Copyright © 2002 VR-24 Association