Next Page

Go Direct to Port Lyautey Scrapbook Page (1), (2), (3), (4), (5), (6) (7), (8), (9), (10), (11), (12), (13), (14), (15), (16), (17), (18), (19), (20), (21), (22), (23), (24), (26), (27), (28), (29), (30), (31), (32), (33), (34), (35), (37), (38), (39), (40), (41), (42), (43), (44), (45), (46), (47), (48), (49), (50), (51), (52), (54),

Return to Scrapbook Page One

Return to Home Page
The photos on this page are also from Aviation Machinist Mate, Mike Niedzwiiedz's collection, taken while he served with VR-24 in Port Lyautey from 1961 to 1963.

Anyone who has photos, stories, and material they wish to share is encouraged to send them to Dick Prather, Webmaster/Editor of the VR-24 website.
(niedzwiedz)

Most of the men assigned to VR-24 at Port Lyautey were single, or on unaccopmanied tours without their families. The Christmas holidays reminded everyone how far away from home Morocco was. The Navy always served festive meals to offset that feeling, but members of the squadron living in the barracks often organized parties to celebrate the occasion.

(niedzwiedz)

Information on where the package came from, or the identity of the individual unwrapping it was not provided.
(niedzwiedz)

Among the participants at the 1961 Christmas party are Jack Boyd, Shaft, and Woody. The barracks Christmas parties were 'come as you are' given the necessity for some personnel to work during holidays to maintain aircraft to meet the Squadron's round the clock operating schedule.

(niedzwiedz)

It appears that Pete Knovack and Gary LaTrace have gotten into the spirit of the occasion, and are perhaps entertaining their shipmates with a carol.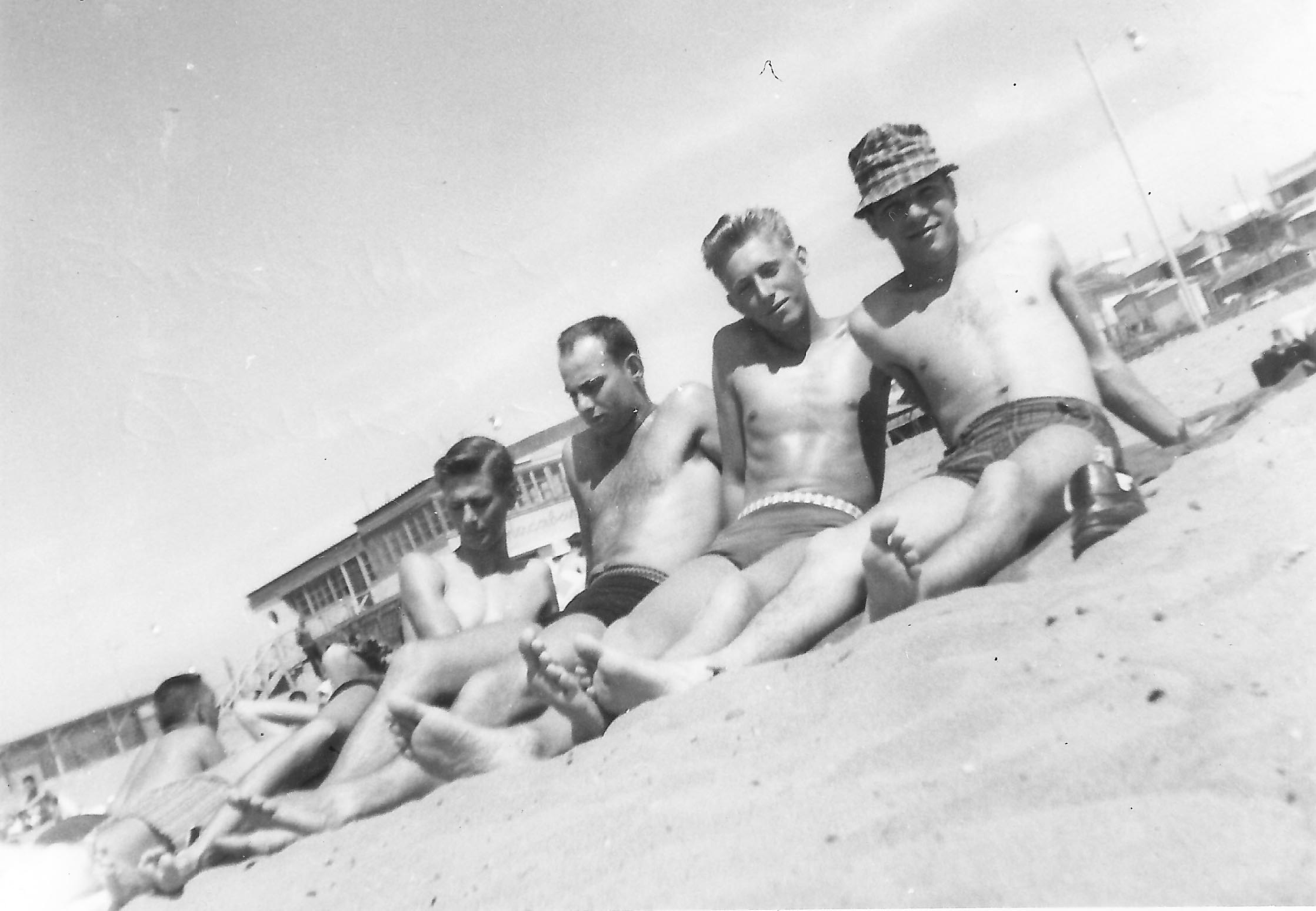 (niedzwiedz)

During most of the year, the weather at Port Lyautey was mild enough that those who chose could go to the beach. And, a day of sun and sand was always a good break from working on squadron aircraft. Present at Medhia Beach, in the summer of 1962 are, L-R: Charles Haney, Mike Niedzwiedz, Mike Bussin, and Joe Sainato.
(niedzwiedz)

The Enlisted Men's club with its pool provided refreshments and recreation at the end of a work day, and for those who with a preference for fresh water to swim in.

(niedzwiedz)

The base open air movie theater and chapel were only a short walk from the VR-24 barracks, short drive from the Bachelor Officers' Quarters.
(niedzwiedz)

For those who preferred indoor seating this theater in downtown Kenitra offered up films from the U.S. and from Europe, usually with French subtitles.

(niedzwiedz)

Though gasoline was available on base at much cheaper prices, some sailors found that it paid to know where a gas station was off base. This Mobil station was located near the center of Kenitra.
Top of Page

Next Page

Go Direct to Port Lyautey Scrapbook Page (1), (2), (3), (4), (5), (6) (7), (8), (9), (10), (11), (12), (13), (14), (15), (16), (17), (18), (19), (20), (21), (22), (23), (24), (26), (27), (28), (29), (30), (31), (32), (33), (34), (35), (37), (38), (39), (40), (41), (42), (43), (44), (45), (46), (47), (48), (49), (50), (51), (52), (54),

Return to Scrapbook Page One

Return to Home Page
Copyright © 2002 VR-24 Association