(Next Page),

Go Direct to Port Lyautey Scrapbook Page (1), (2), (3), (4), (5), (6) (7), (8), (9), (10), (11), (12), (13), (14), (15), (16), (18), (19), (20), (21), (22), (23), (24), (25), (26), (27), (28), (29), (30), (31), (32), (33), (34), (35), (36), (37), (38), (39), (40), (41), (42), (43), (44), (45), (46), (47), (48), (49), (50), (51), (52), (53), (54),

Return to Scrapbook Page One

Return to Home Page
More photos from the archives of Jack Bolger.

Anyone who has photos, stories, and material they wish to share is encouraged to send them to Dick Prather, Webmaster/Editor of the VR-24 website.
(bolger)

CAPT Knowles performs one the most enjoyable parts of his job.

(bolger)

The crew of VR-24 Power Plants shop relaxes at the end of a long day.
(bolger)

Capel, Wells, and Bolger stand for their photo in the squadron barracks.

(bolger)

Capel, Robles, and Code pick a convenient, if untidy, place outside the "back door" to the squadon barracks to allow Capel to reload his camera.
(bolger)

Most new arrivals found it strange to see ships, like the one in the background of these two photos, seemingly cruising along through the desert-like landscape beyond the field.

(bolger)

Ocean-going vessels routinely passed the field on the Oued Sebou river enroute to or from the port of Kenitra just south east of NAS Port Lyautey.
(bolger)

Example of local open air transport on the streets of Kenitra (Sep 57).

(bolger)

A more modern conveyance, and the means of getting off the beaten track. Rem, Sewell, and Bolger with Rem's Morris Minor convertible, probably near Medhya Beach (Sep 57)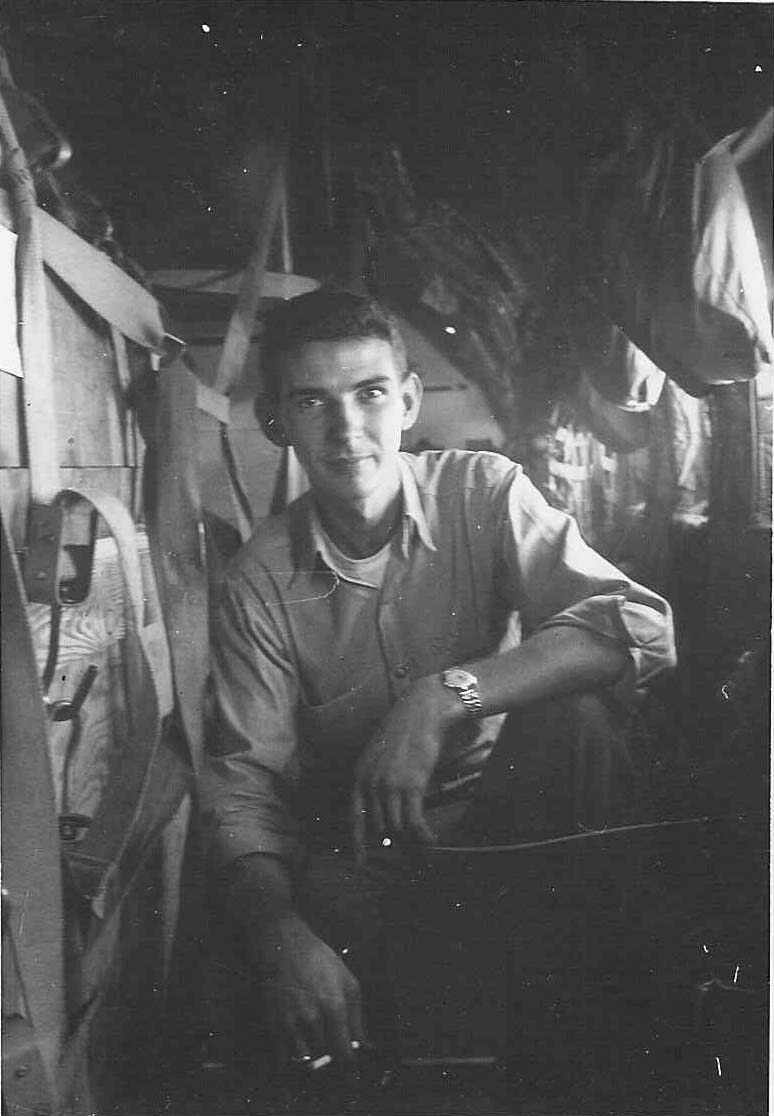 (bolger)

This photo of Smitty, member of the crew on a flight to Soudha Bay, Crete, shows the cramped space of a fully loaded R5D cabin.
Top of Page

(Next Page),

Go Direct to Port Lyautey Scrapbook Page (1), (2), (3), (4), (5), (6) (7), (8), (9), (10), (11), (12), (13), (14), (15), (16), (18), (19), (20), (21), (22), (23), (24), (25), (26), (27), (28), (29), (30), (31), (32), (33), (34), (35), (36), (37), (38), (39), (40), (41), (42), (43), (44), (45), (46), (47), (48), (49), (50), (51), (52), (53), (54),

Return to Scrapbook Page One

Return to Home Page
Copyright © 2002 VR-24 Association