Next Page

Go Direct to Port Lyautey Scrapbook Page (1), (2), (3), (4), (5), (6) (7), (8), (9), (10), (11), (12), (13), (14), (15), (16), (17), (18), (19), (20), (21), (22), (23), (24), (26), (27), (28), (29), (30), (31), (32), (33), (34), (35), (37), (38), (39), (40), (41), (42), (43), (44), (45), (47), (49), (50), (51), (52), (53), (54),

Return to Scrapbook Page One

Return to Home Page
The photos on this page were contributed by William "Dewey" Brock, who served with VR-24 in Port Lyautey as an Aviation Machinist Mate during the 1959 to 1960 timeframe.

Anyone who has photos, stories, and material they wish to share is encouraged to send them to Dick Prather, Webmaster/Editor of the VR-24 website.
(brock)

Dewey Brock astride his Harley Davidson motocyle. There must be a story behind his enviable ride since most sailors at Port Lyautey made do with a Vespa or Lambretta.

(brock)

ADR3 Brock with his Charles Brock, an active duty member of the U.S. Army. Date and location of the photo was not provided.
(brock)

ADR3 Ushrey and squadron mate, Hedrick in whites, the uniform of the day for much of the year in the California style weather enjoyed around Port Lyautey.

(brock)

Dewey Brock and fellow member of the squadron in the area between barracks at Port Lyautey. Identity of other squadron member is unavailable.
(brock)

In "semi-casual" mode, Dewey Brock pauses for a photo op in the streets of Kenitra.

(brock)

Dewey Brock and Hedrick participate in one of the most popular activities among sailors based at Port Lyautey, enjoying the ambience, complete with cool ones, in a downtown bar.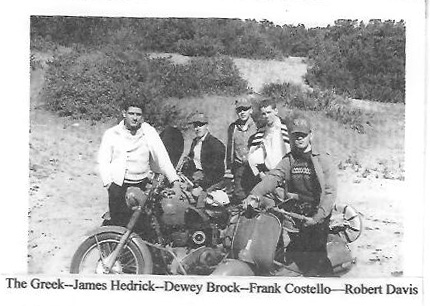 (brock)

Friends with common interests. The background of native Moroccan flora suggests this photo may have been taken during a break while exploring the more off-beat areas around Port Lyautey.
Top of Page

Next Page

Go Direct to Port Lyautey Scrapbook Page (1), (2), (3), (4), (5), (6) (7), (8), (9), (10), (11), (12), (13), (14), (15), (16), (17), (18), (19), (20), (21), (22), (23), (24), (26), (27), (28), (29), (30), (31), (32), (33), (34), (35), (37), (38), (39), (40), (41), (42), (43), (44), (45), (47), (49), (50), (51), (52), (53), (54),

Return to Scrapbook Page One

Return to Home Page
Copyright © 2002 VR-24 Association