The first photo on this page was contributed by John Matter, son of LCDR Matter, a pilot based at Port Lyautey from 1958 to 1960. The second is from the collection of Pete Davis, son of ADC John Davis, who served with VR-24 in Port Lyautey from 1957 to 1960.

Anyone who has photos, stories, and material they wish to share is encouraged to send them to Dick Prather, Webmaster/Editor of the VR-24 website.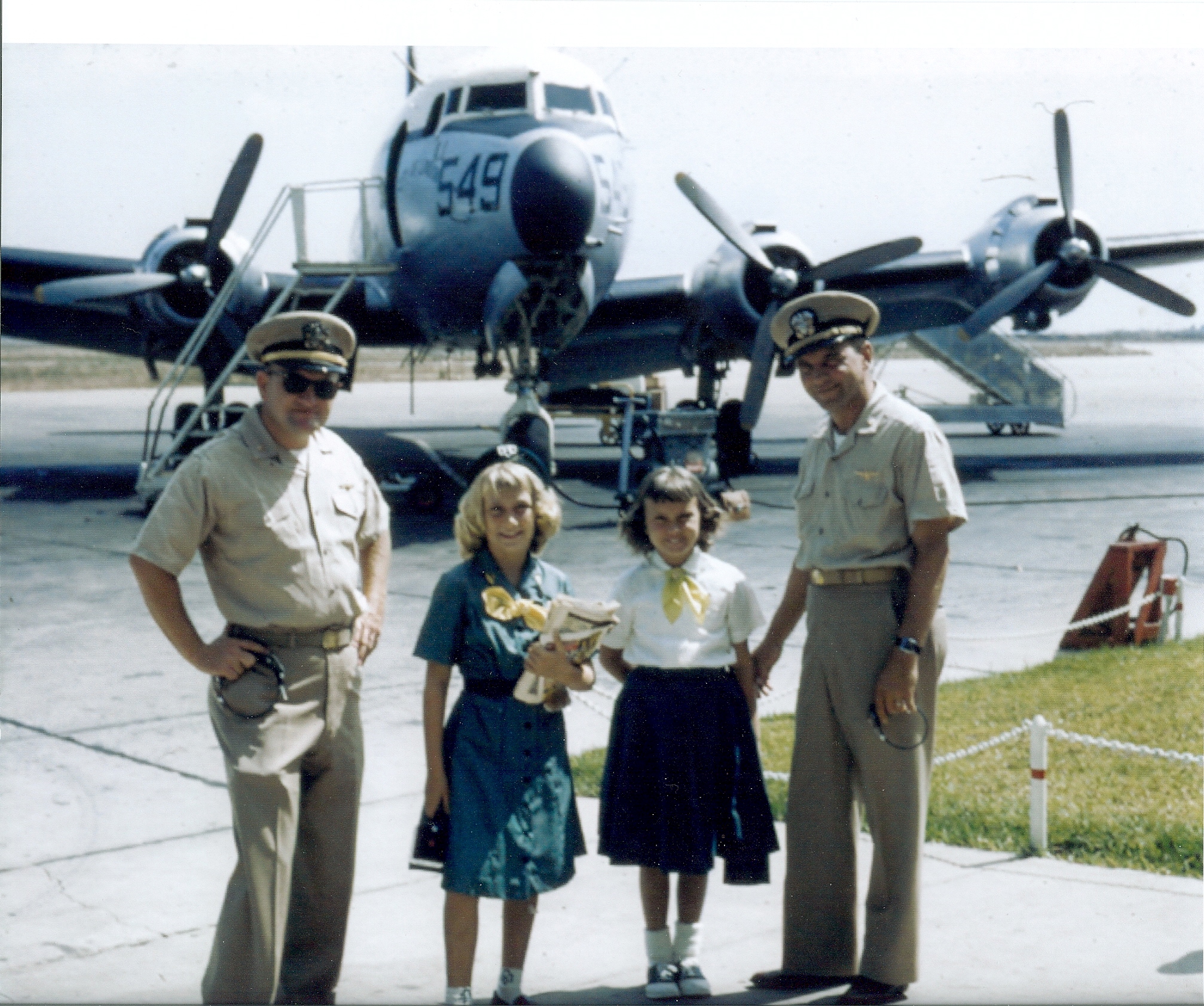 (jmatter collection)

LCDR Fred Mench(L) and his daughter, Melinda, and Kathy Matter, daughter of LCDR John Matter(R). According to Kathy Matter, this photo was taken in 1960 as the two squadron officers prepared to take a group of Girl Scouts to Rota, Spain for a one week camp. This kind of support for the dependents of members of the squadron, as well as those of other service members based at Port Lyautey, was of the benefits of duty with VR-24.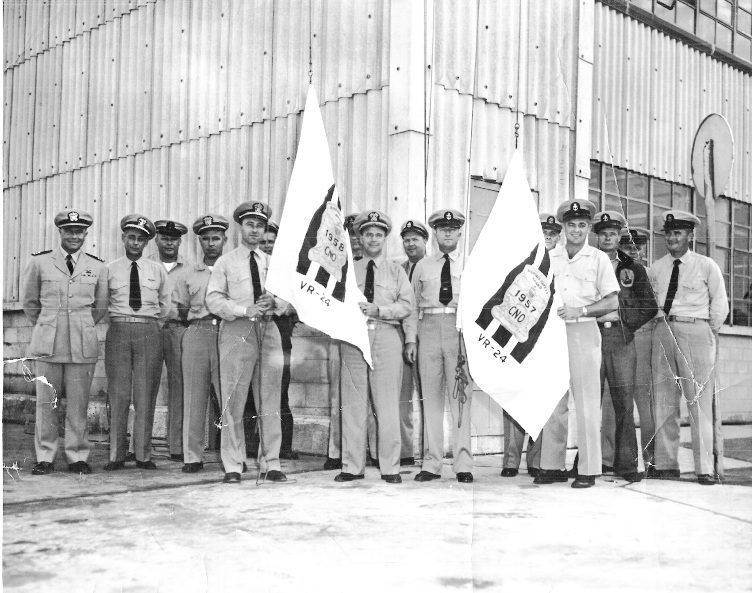 (USN photo davis collection)

This photo is thought to have been taken soon after VR-24 received its second consecutive Chief of Naval Operations (CNO) Safety award. The two flags show the years of awards, 1957 and 1958, respectively. Those in the photo who can be positively identified include: (far right) CPO Ray Kane; (3rd from right) ADRC John Davis in leather flying jacket; (4th from right) ATC Bill McKinnies in short sleeves and holding 1957 flag; (immediately to left of 1957 flag) ADC Tom Lancaster, Squadron Leading Chief Petty Officer;(3rd from left) AEC Austen, Electrical Shop Chief. Possible identification of others: (far left) LCDR Watson; (2nd from left side of photo) CDR Vance Horswell; (4th from left) Lt Jones. Confirmation of, and additiona identifications would be appreciated.
Top of Page

Next Page

Go Direct to Port Lyautey Scrapbook Page (1), (2), (3), (4), (5), (6) (7), (8), (9), (10), (11), (12), (13), (14), (15), (16), (17), (18), (19), (20), (21), (22), (23), (24), (26), (27), (28), (29), (30), (31), (32), (33), (35), (36), (37), (38), (39),

Return to Scrapbook Page One

Return to Home Page
Copyright © 2002 VR-24 Association