(Next Page),

Go Direct to Port Lyautey Scrapbook Page (1), (2), (3), (4), (5), (6) (7), (8), (9), (10), (11), (12), (13), (14), (15), (16), (17), (18), (19), (20), (21), (22), (24), (25), (26), (27), (28), (29), (30), (31), (32), (33), (34), (35), (36), (37), (38), (39), (40), (41), (42), (43), (44), (45), (46), (47), (48), (49), (50), (51), (52), (53), (54),

Return to Scrapbook Page One

Return to Home Page
The photos on this page and the next are from the collection of Walt Smith who was assigned to VR-24 in Port Lyautey from Jan 1952 though the Spring of 1953. Walt's photos add to the picture of life in the squadron and the Moroccan experience.

Anyone who has photos, stories, and material they wish to share is encouraged to send them to Dick Prather, Webmaster/Editor of the VR-24 website.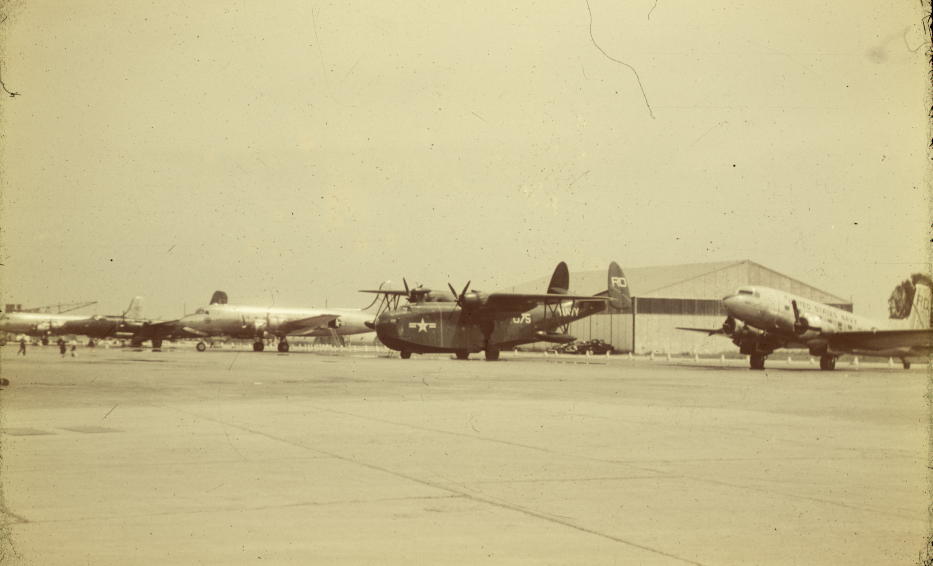 (w_smith)

An historic shot of the flight line at Port Lyautey sometime in 1952. VR-24 aircraft shown include two R5Ds, PBM 075,and an R4D-8. This photo clearly indicates that other aircraft, in this case a P4M Mercator, shared ramp space with VR-24 while the field was being expanded.
(w_smith)

One of VR-24 R5Ds near the shared French hangar at Port Lyautey in 1952. This photo shows the evolving paint scheme from all over bare metal with large fuselage numbers (as shown, 758). The white top shown in this photo became standard. The large fuselage numbers were replaced by slightly smaller BUNOs on the tail.

(w_smith)

A good close up of a VR-24 PBM-5A Mariner, 075, on the ramp at Port Lyautey in 1952. Information is not available at this time on whether this was the only PBM assigned to VR-24.
(w_smith)

This photo shows the three VR-24 JRBs, with nose numbers that appear to be (L-R) 87, 574 (or 374), and 127, and R4D A23 on the ramp adjacent to the hangar shared with the French Navy in 1952.

(w_smith)

Another view of two of the squadron's JRBs, in this case, JRB 127 and what appears to be 87, or possibly 117.
(w_smith)

These appear to be fuel trucks but another of Walt Smith's photos show larger, and perhaps more modern, trucks. The purpose of the light assemblies on top of the tanks are assumed to be for night ops, but that is only a guess.

(w_smith)

The squadron undergoes personnel insptction on the ramp in front of the French Customs office at Port Lyautey.
(w_smith)

The Special Devices building at NAF Port Lyautey. Walt Smith, himself a Training Devices technician 'TD', reports that "the Special Devices Hut was on one end of the French aircraft parking area and the P4M squadron along side us in two more quonsets".

(w_smith)

TD2 Walt Smith with what appears to have been a late model Chevrolet, perhaps his own.
Top of Page

(Next Page),

Go Direct to Port Lyautey Scrapbook Page (1), (2), (3), (4), (5), (6) (7), (8), (9), (10), (11), (12), (13), (14), (15), (16), (17), (18), (19), (20), (21), (22), (24), (25), (26), (27), (28), (29), (30), (31), (32), (33), (34), (35), (36), (37), (38), (39), (40), (41), (42), (43), (44), (45), (46), (47), (48), (49), (50), (51), (52), (53), (54),

Return to Scrapbook Page One

Return to Home Page
Copyright © 2002 VR-24 Association