Next Page

Go Direct to Port Lyautey Scrapbook Page (1), (2), (3), (4), (5), (6) (7), (8), (9), (10), (11), (12), (13), (14), (15), (16), (17), (18), (19), (20), (21), (22), (23), (24), (26), (27), (28), (29), (30), (31), (32), (33), (34), (35), (37), (38), (39), (40), (41), (42), (43), (44), (45), (47), (49), (50), (51), (52), (53), (54),

Return to Scrapbook Page One

Return to Home Page
Port Lyautey provided many opportunities for the adventurous to keep boredom at bay.

Anyone who has photos, stories, and material they wish to share is encouraged to send them to Dick Prather, Webmaster/Editor of the VR-24 website.
(wagoner)

Thanks to a DOD directive that allowed military bases to establish flying clubs for the training and recreation of personnel, Kent Wagoner and other members of VR-24 were able to learn to fly while assigned to Port Lyautey.

(wagoner)

As part of his preflight procedure, Kent checks the fuel tank cap is secure on the club's Supercub prior to taking it up for a flight.
(wagoner)

Brenda shows faith in her husband, Kent Wagoner by letting him take her for a ride in the Piper Supercub. In some cases, through the initial exposure to flying, wives and girlfriends discover they not only loved to fly but became pilots themselves.

(wagoner)

Here Kent sits on the wing of one of the club's Beech T-34 Mentors. This aircraft was probably one of many retired from the Navy's inventory of primary trainers. As a flying club asset it provided training in a more complex aircraft, i.e. one with more horsepower, retractable landing gear and constant speed propeller.
(wagoner)

Some adventures did not end as well as others. The Renault Dauphine shown here has seen better days. The circumstances leading to the car's damage was not provided with the photos.

(wagoner)

Earl Rauh appears to be giving Mel Sommers the business, perhaps because, Mel was at the wheel when the little car came to grief.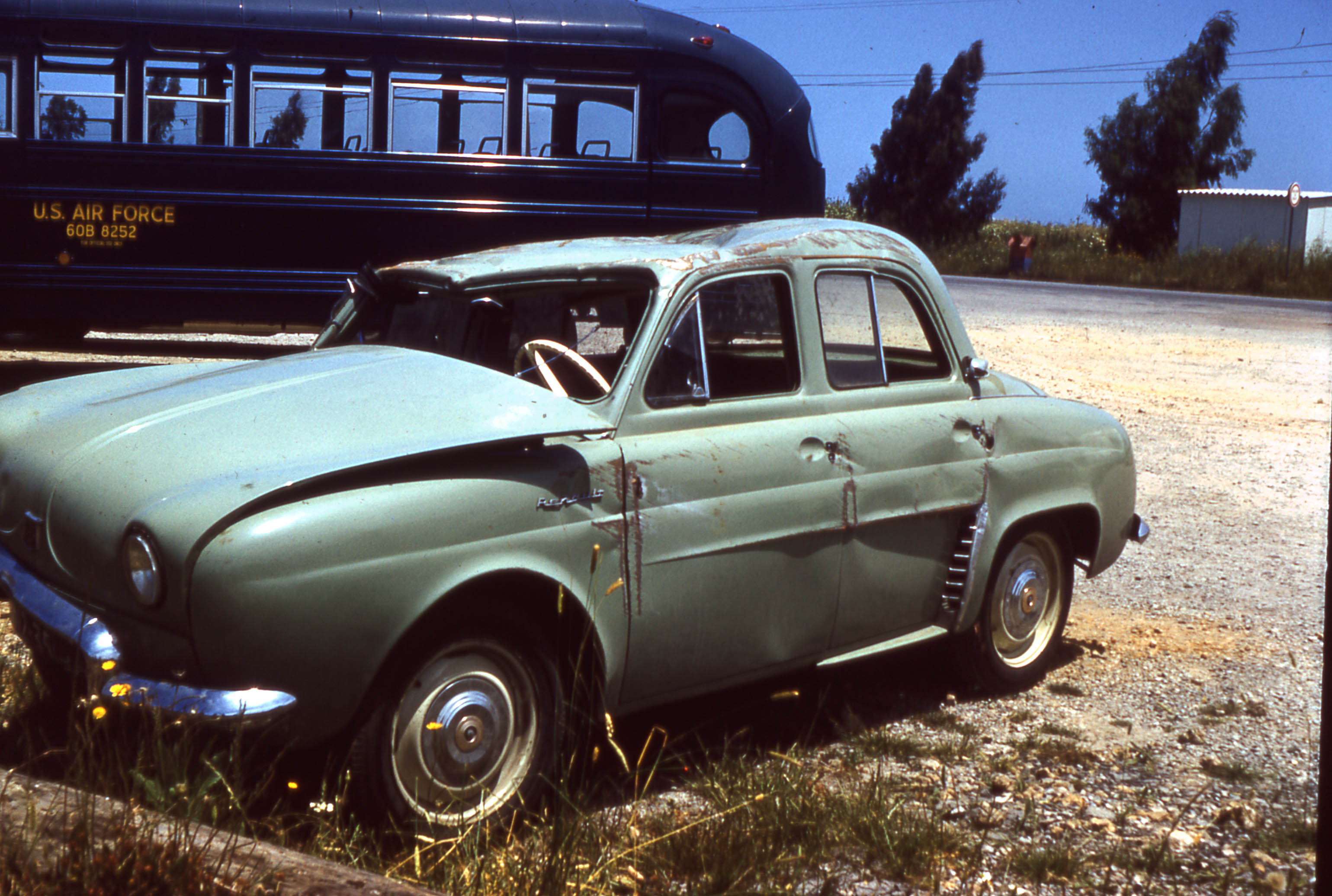 (wagoner)

Available information indicates that this was a rental car, but from where and whom is unknown.
Top of Page

Next Page

Go Direct to Port Lyautey Scrapbook Page (1), (2), (3), (4), (5), (6) (7), (8), (9), (10), (11), (12), (13), (14), (15), (16), (17), (18), (19), (20), (21), (22), (23), (24), (26), (27), (28), (29), (30), (31), (32), (33), (34), (35), (37), (38), (39), (40), (41), (42), (43), (44), (46), (47), (49), (50), (51), (52), (53), (54),

Return to Scrapbook Page One

Return to Home Page
Copyright © 2002 VR-24 Association