Next Page

Go Direct to Port Lyautey Scrapbook Page (1), (2), (3), (4), (5), (6) (7), (8), (9), (10), (11), (12), (13), (14), (15), (16), (17), (18), (19), (20), (21), (22), (23), (24), (26), (27), (28), (29), (30), (31), (32), (33), (34), (35), (37), (38), (39), (40), (41), (43), (44), (45), (46), (47), (48), (49), (50), (51), (52), (53), (54),

Return to Scrapbook Page One

Return to Home Page
The photos below also from the collection of Kent Wagoner and depict scenes from his travels around Morocco while assigned to VR-24.

Anyone who has photos, stories, and material they wish to share is encouraged to send them to Dick Prather, Webmaster/Editor of the VR-24 website.
(wagoner)

This bridge along the road from Rabat to Casablanca was wide enough for two-way traffic. However, meeting an oncoming bus or big truck on it made a memorable impression.

(wagoner)

Sailors traveling the roads around Kenitra came to expect the unexpected. Goats such as these were often found mixed in with herds of sheep. Flocks were sometimes hazards to driving especially at night when shepards used roadways to herd flocks from one grazing area to another.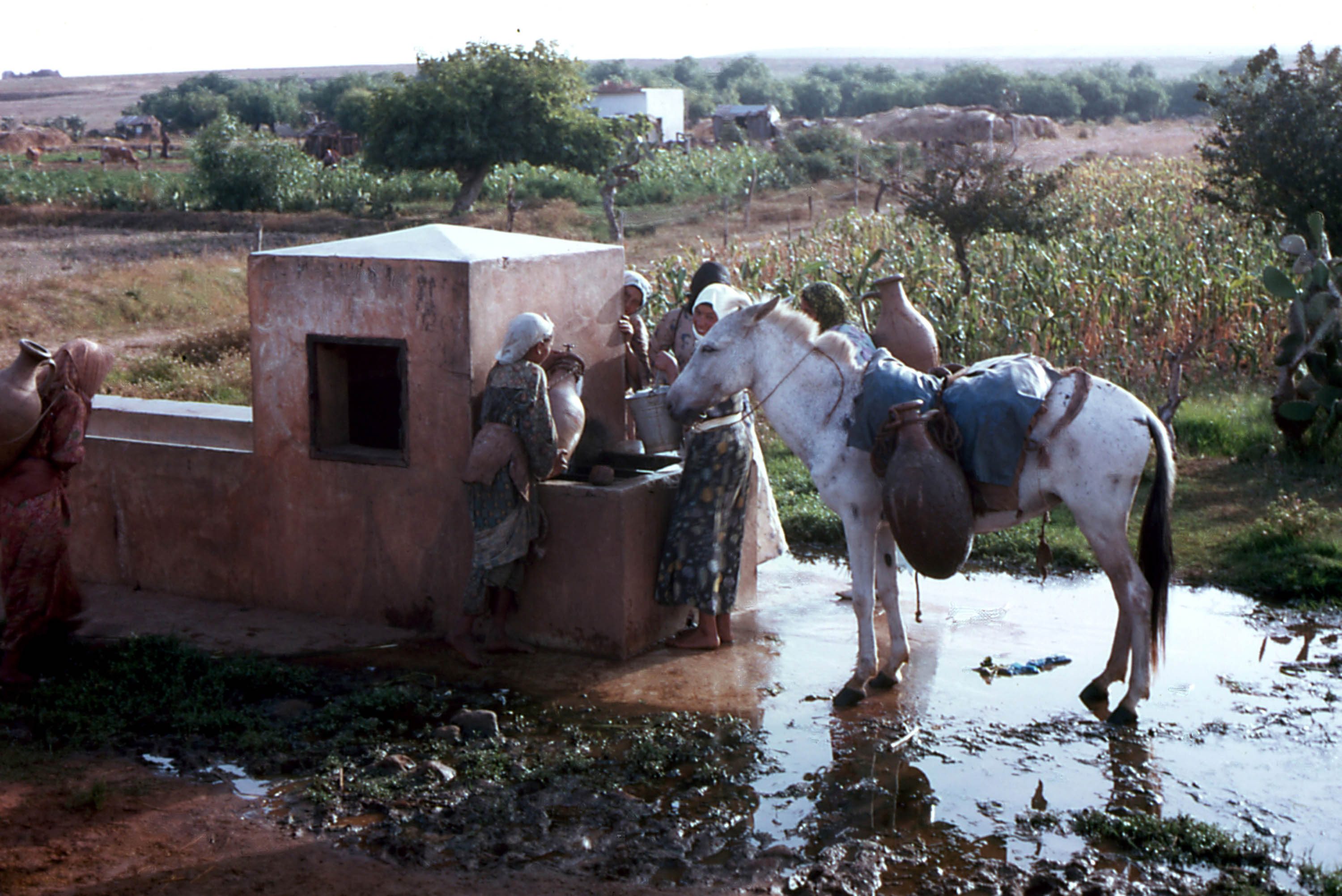 (wagoner)

These women are carrying out a daily task little changed in centuries. Perhaps unusual is the mule being loaded with water drawn from this public well. Women carrying water on their heads, shoulders, or backs was a more common sight.
(wagoner)

This peaceful site located east of Kenitra was not known by many VR-24 members. The actual name or precise location of these gardens was not available at the time this photo was posted here. They were simply called Happy Valley.

(wagoner)

Water for the lush vegetation came from a stream flowing through otherwise semi-arid countryside.

(wagoner)

Another peaceful scene in Hidden Valley.

(wagoner)

An attractive waterfall within the gardens.
Top of Page

Next Page

Go Direct to Port Lyautey Scrapbook Page (1), (2), (3), (4), (5), (6) (7), (8), (9), (10), (11), (12), (13), (14), (15), (16), (17), (18), (19), (20), (21), (22), (23), (24), (26), (27), (28), (29), (30), (31), (32), (33), (34), (35), (37), (38), (39), (40), (41), (43), (44), (45), (46), (47), (48), (49), (50), (51), (52), (53), (54),

Return to Scrapbook Page One

Return to Home Page
Copyright © 2002 VR-24 Association