Next Page

Go Direct to Port Lyautey Scrapbook Page (1), (2), (3), (4), (5), (6) (7), (8), (9), (10), (11), (12), (13), (14), (15), (16), (17), (18), (19), (20), (21), (22), (23), (24), (26), (27), (28), (29), (30), (31), (32), (34), (35), (36), (37), (38), (39), (40), (41), (42), (43), (44), (45), (47), (49), (50), (51), (52), (53), (54),

Return to Scrapbook Page One

Return to Home Page
The photos on this page were contributed by Tom Moore who served as an Aviation Electronics Technician (AT) and aircrew radioman with the squadron from 1959 to 1961.

Anyone who has photos, stories, and material they wish to share is encouraged to send them to Dick Prather, Webmaster/Editor of the VR-24 website.
(tmoore)

Tom Moore appears ready for some serious study, perhaps cramming for Advancement exams, or other off-duty studies in preparation for return to civilian life.

(tmoore)

Tom Moore (r) takes a look at John Schoenfeld's pet monkey, barely visible in the center of the photo.
(tmoore)

John Schoenfeld's pet monkey has drawn a crowd.

(tmoore)

Tom Moore diverts the monkey while Schoenfeld fiddles with what looks like a movie camera.
(tmoore)

A view to the north from somewhere west of the VR-24 ramp. The Ouede Sebu river, invisible in this photo, forms the northern and eastern border of the base.

(tmoore)

No small stream, the Sebou is navigable to ocean-going ships all way from the from the Atlantic Ocean to wharfs in the town of Kenitra, which sits about five miles inland.
(tmoore)

A rampart of the sixteenth century Portugese fort guarding the mouth of the Ouede Sebou. A popular attraction for American sailors exploring the local sites.

(tmoore)

A totally different approach to defensive positions. Although this bunker might date from WWII, it appears of more recent vintage. Perhaps, it was to be one used for training, either the U.S Marines, or the contingent of French Foreign Legion based at Port Lautey.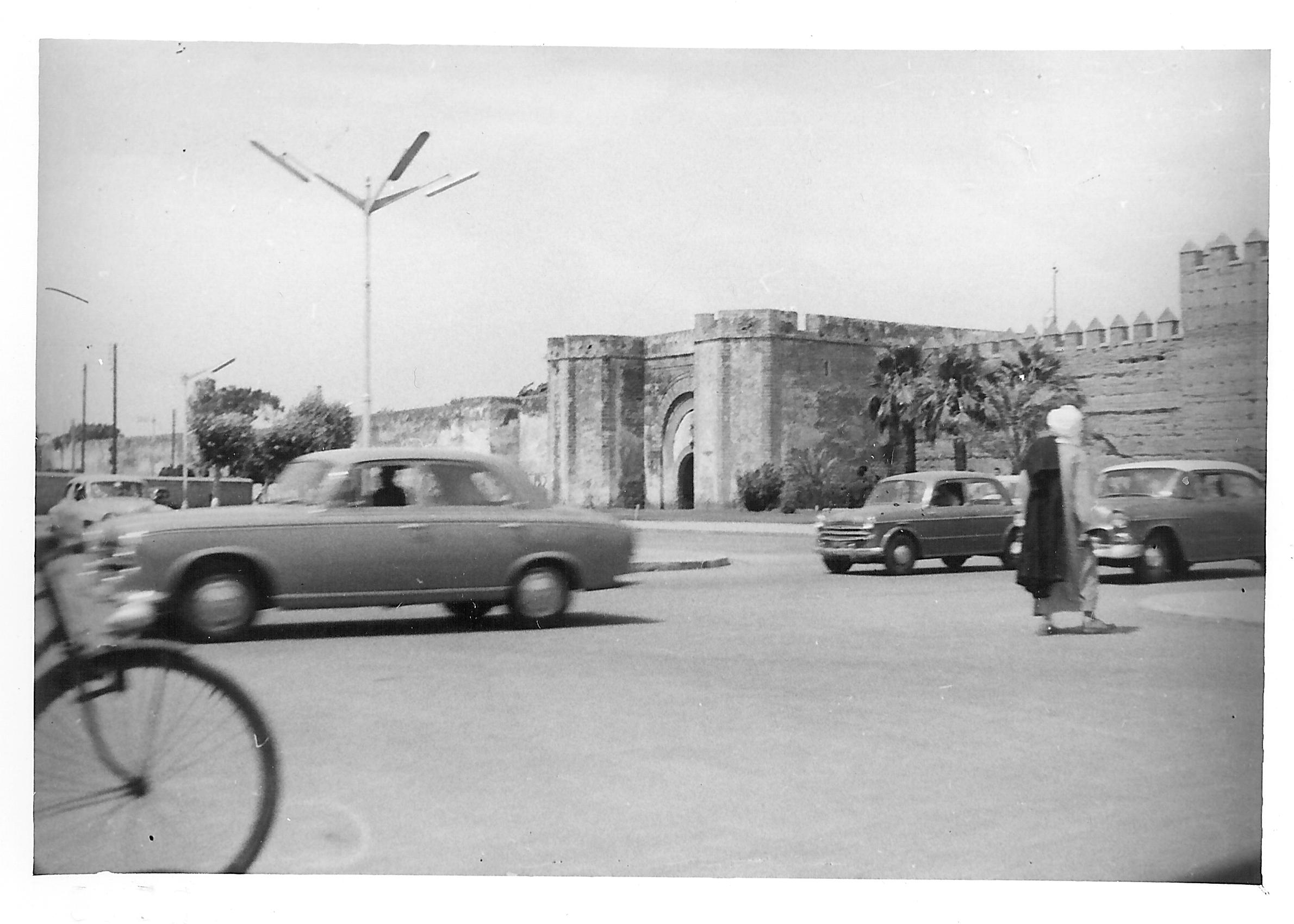 (tmoore)

Not exactly a fort, but the walls surrounding the old city of Rabat were built during a time when walls meant security.
(tmoore)

VR-24 offered a variety of travel opportunities. This is thought to be a view of coastal Spain, taken by Tom Moore in his travels.

(tmoore)

One of the amenities of the hotel where Tom spent a couple of nights in Malaga was the ice sculpture of a sun worshiper in the center of this photo.
Top of Page

Next Page

Go Direct to Port Lyautey Scrapbook Page (1), (2), (3), (4), (5), (6) (7), (8), (9), (10), (11), (12), (13), (14), (15), (16), (17), (18), (19), (20), (21), (22), (23), (24), (26), (27), (28), (29), (30), (31), (32), (34), (35), (36), (37), (38), (39), (40), (41), (42), (43), (44), (45), (47), (49), (50), (51), (52), (53), (54),

Return to Scrapbook Page One

Return to Home Page
Copyright © 2002 VR-24 Association