Next Page

Go Direct to Port Lyautey Scrapbook Page (1), (2), (3), (4), (5), (6) (7), (8), (9), (10), (11), (12), (13), (14), (15), (16), (17), (18), (19), (20), (21), (22), (23), (24), (26), (27), (28), (29), (30), (31), (32), (33), (34), (35), (36), (37), (39), (40), (41), (42), (43), (44), (45), (47), (49), (50), (51), (52), (53), (54),

Return to Scrapbook Page One

Return to Home Page
The photos on this page are from the collection of Dick Prather who served with VR-24 from Dec '57 to Oct '60 as an Aviation Electronics Tech at Port Lyautey and aircrew radio operator on R5D aircraft. The photos were taken in June 1958 during a weekend trip by a group of VR-24 members to Lake Roumi. The U.S. Navy leased a primitive camp site on the lake, located approximately two hours inland from Port Lyautey.

Anyone who has photos, stories, and material they wish to share is encouraged to send them to Dick Prather, Webmaster/Editor of the VR-24 website.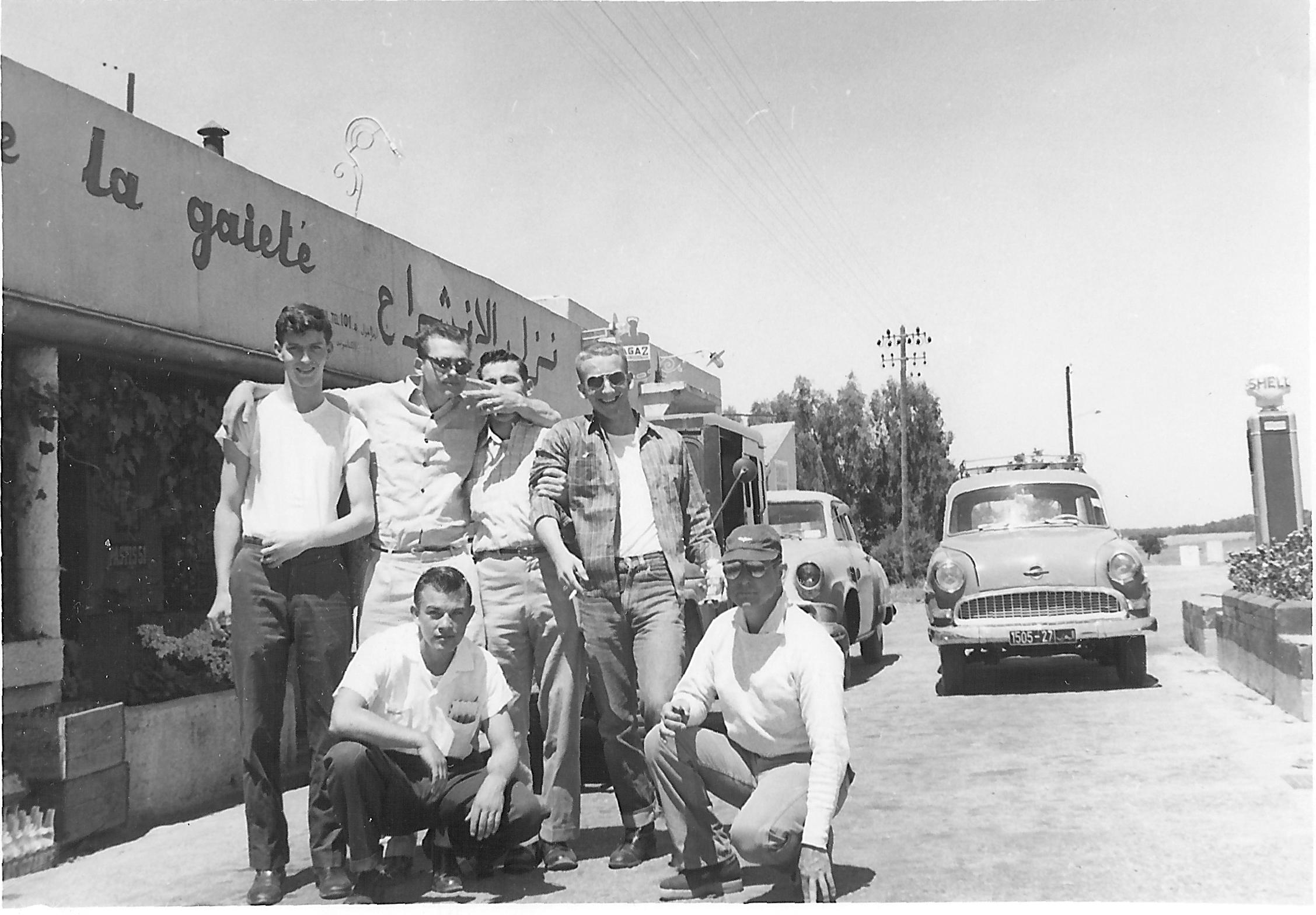 (prather collection)

The group in Menod, Morocco, over halfway from Port Lyautey to Lake Roumi. Shown in this photo: (l-r) standing; AT3 John Harris, AT3 ___Leady, AMS2 ___ Akers, AT3 Prather. Front row: (l-r); AT2 Hathaway and AT2 Delbert Fisher. Also present were, AT3 George McMurtry and AT3 Ray Hemby.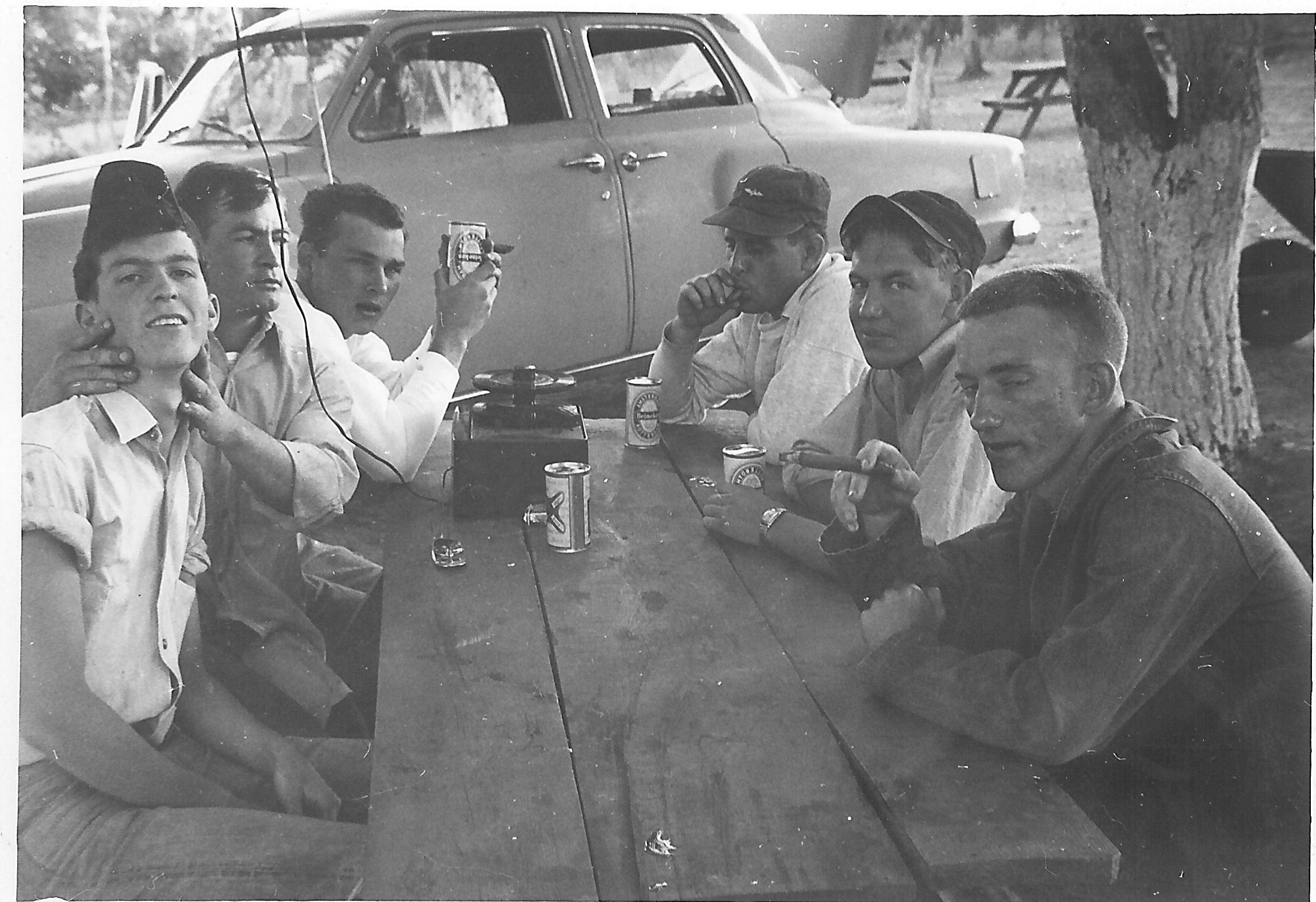 (prather collection)

The camp at Lake Roumi was short on amenities but long on atmosphere (note the 45rpm record player). Plumbing consisted of a well near the camp attendant's cottage, electricity via a very long extension cord, also from the keeper's cottage. Facilities included a one hole privy. But what could be better than a beer and good cigar (courtesy Del Fisher) after a hard day of swimming and lazing in the shade. Seated left to right around the table are: Harris, Akers, Leady, Fisher, Hemby, and Prather.

Dick Prather's 1952 Studebaker in the background came with suicide doors and an interesting history. Its previous owners included AL1 Pete Owen and AL2 Ken Marks, who sold it to Dick. The car had been badly damaged when it was dropped while being off-loaded at the port of Casablanca, which is why Pete sold it to Ken. Amazingly, Dick found a matching Studebaker in the base junkyard and replaced the right front fender, windshield, and other parts. No matter that the car was light blue and the 'new' fender bronze. The old Studebaker ran fine, but cost as much to fill with oil ($.25/qt) as it did gas ($.13/gal). It enabled Dick and his friends to wander farther afield, and have more than their share of mis-adventure.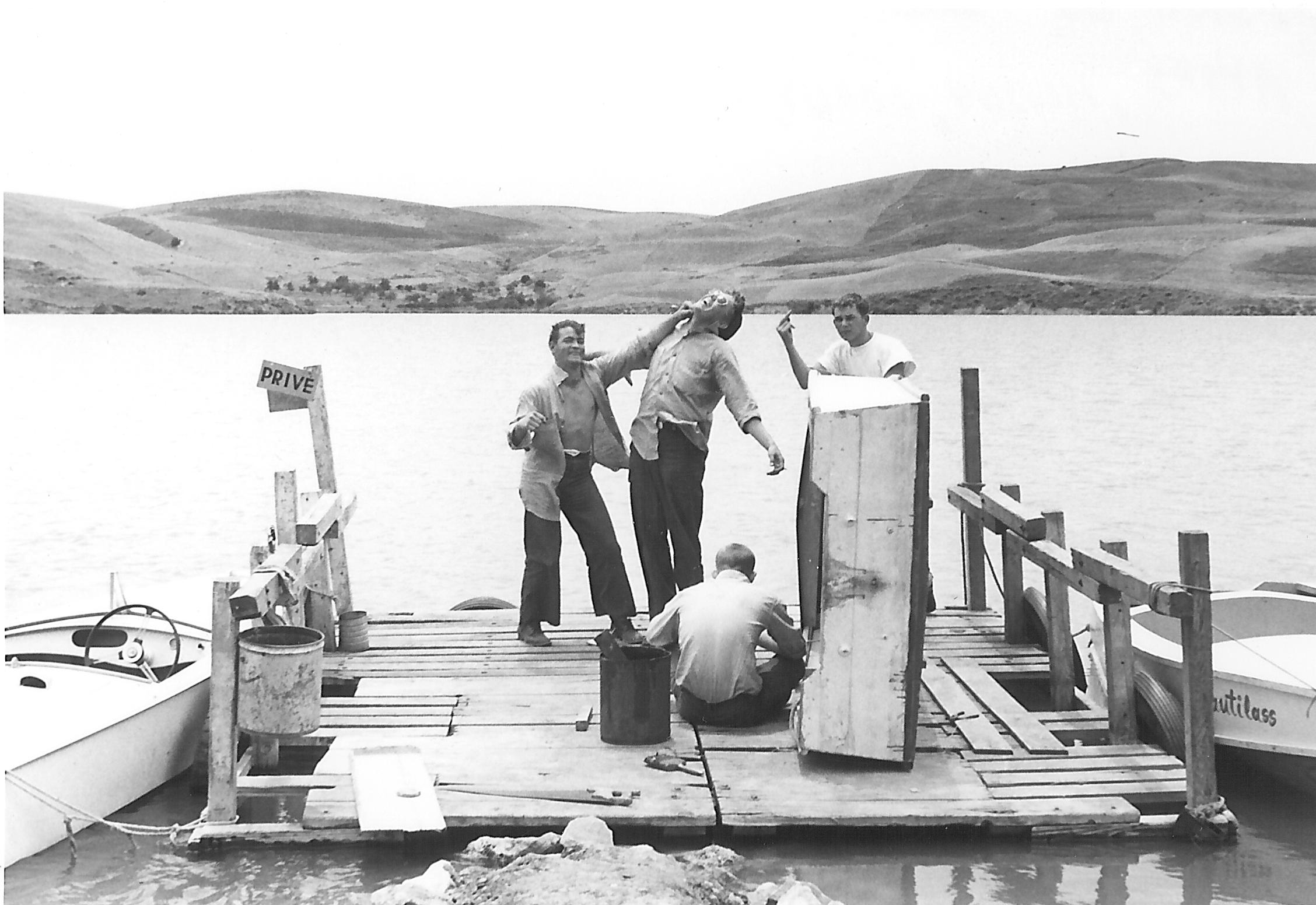 (prather collection)

Three members of the 'boating party' (Akers, Hemby, and Leady) clown around while Dick Prather (back to camera) toils diligently to finish repairs to the boat shown in this photo.

The 'boating party' included everyone but Del Fiher who wisely chose to stay in camp. The boaters set off on a planned two hour excursion to explore the far side of the lake. Once there, the plan changed to include a swim call to gain relief from the 'high ambient temp'. The plan went awry when the boat's motor would not restart. Further vigorous attemps to coax it resulted in leaks from sprung bottom planking. The original plan was abandoned, along with the boat, when it sank a few minutes later in about seven feet of water. Undaunted, and exercising great ingenuity, and persistent bailing, the intrepid sailors successfully raised the boat, recovered the motor, and brought their striken vessel back to port (dock). Most of the following day was spent in repairing the boat. Alas, the motor was beyond repair with tools at hand. It was hauled back to Port Lyautey by, who else but Del Fisher, where it was restored to working order.
Top of Page

Next Page

Go Direct to Port Lyautey Scrapbook Page (1), (2), (3), (4), (5), (6) (7), (8), (9), (10), (11), (12), (13), (14), (15), (16), (17), (18), (19), (20), (21), (22), (23), (24), (26), (27), (28), (29), (30), (31), (32), (33), (34), (35), (36), (37), (39), (40), (41), (42), (43), (44), (45), (47), (49), (50), (51), (52), (53), (54),

Return to Scrapbook Page One

Return to Home Page
Copyright © 2002 VR-24 Association