Next Page

Go Direct to Port Lyautey Scrapbook Page (1), (2), (3), (4), (5), (6) (7), (8), (9), (10), (11), (12), (13), (14), (15), (16), (17), (18), (19), (20), (21), (22), (23), (24), (26), (27), (28), (29), (30), (31), (32), (33), (34), (35), (37), (38), (39), (40), (41), (42), (44), (45), (46), (47), (48), (49), (50), (51), (52), (53), (54),

Return to Scrapbook Page One

Return to Home Page
Kent and a couple of shipmates ventured as far as Tangier, about a hundred sixty miles north of Kenitra, and took a ferry across the Straits of Gibraltar to visit the famous 'Rock'.

Anyone who has photos, stories, and material they wish to share is encouraged to send them to Dick Prather, Webmaster/Editor of the VR-24 website.
(wagoner)

Somewhere along the road to Tangier. This scene give an idea of the semi-arid terraine of part of Morocco.

(wagoner)

It was easy to get to Rabat and Casablanca via Moroccan rail service, but a car, most any kind would do, in this case a trusty VW Beetle, was essential for venturing farther afield. Here, Rome Ballock and Mel Sommers take a stretch somewhere along the road to Tangier (September 1961).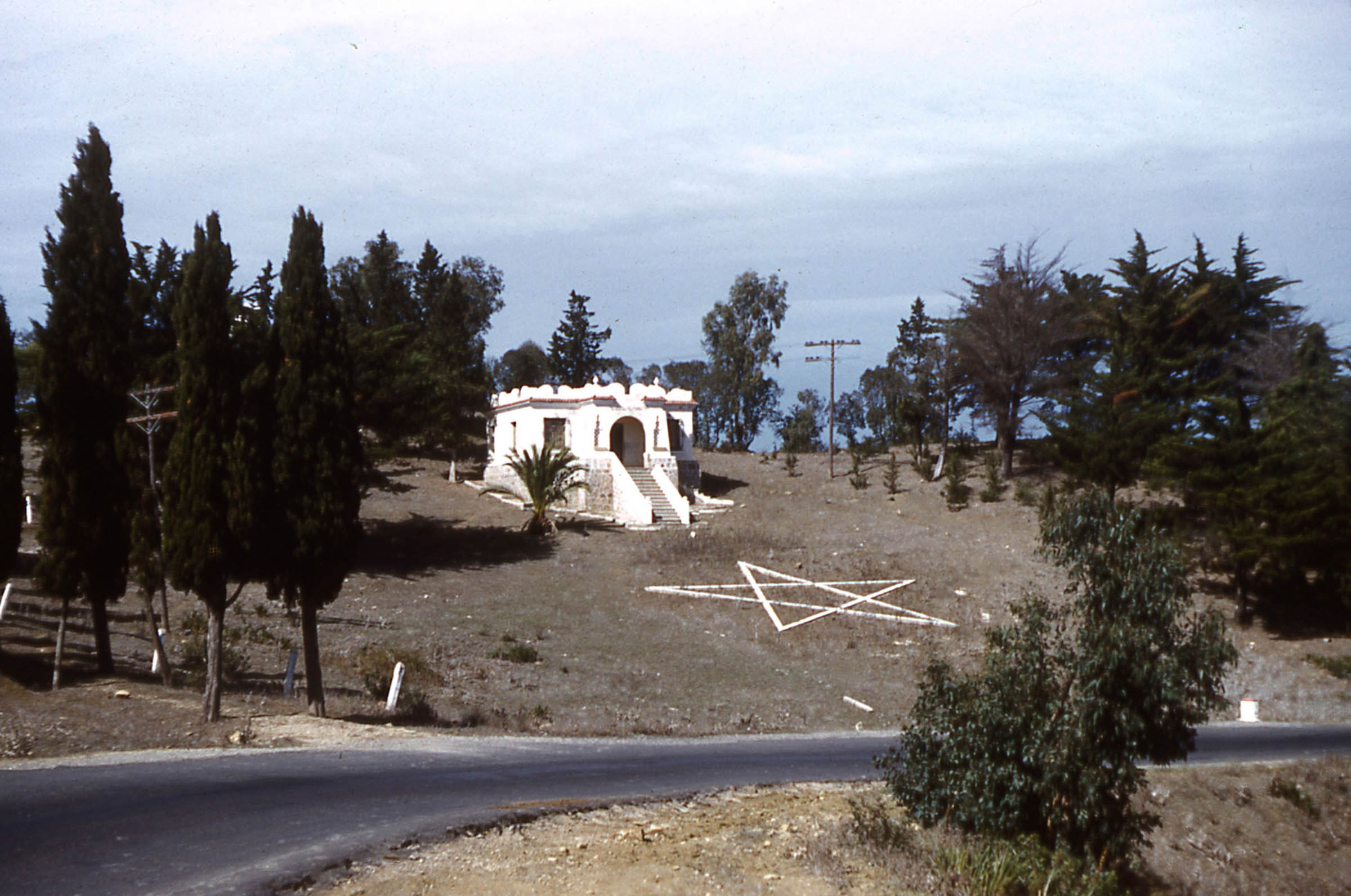 (wagoner)

Shrines were sometimes found in unexpected places; this one along the road to Tangier.
(wagoner)

For some, the chance to ride a camel was an opportunity not to be missed. Here, Kent wagoner and Mel Summers try their hand.

(wagoner)

Ron Jakoby takkes his turn on the hump-backed steed.

(wagoner)

Kent Wagoner demos an unorthodox style of camel riding. The Moroccan camel herder seems bemused.

(wagoner)

Real adventures in Morocco would be incomplete without seeing a snake charmer. This one was found entertaining travelers near Tangier.

(wagoner)

Kent Wagoner onboard the SS M Calde, ferry from Tangier to Gibraltar.

(wagoner)

Mel Sommers on the ferry to Gibraltar.

(wagoner)

A view of one the ferries plying the Straits of Gibraltar in the 1960s.

(wagoner)

A collection of work baats at the base of the Rock; Gibraltar.
Top of Page

Next Page

Go Direct to Port Lyautey Scrapbook Page (1), (2), (3), (4), (5), (6) (7), (8), (9), (10), (11), (12), (13), (14), (15), (16), (17), (18), (19), (20), (21), (22), (23), (24), (26), (27), (28), (29), (30), (31), (32), (33), (34), (35), (37), (38), (39), (40), (41), (42), (44), (45), (46), (47), (48), (49), (50), (51), (52), (53), (54),

Return to Scrapbook Page One

Return to Home Page
Copyright © 2002 VR-24 Association